Donut Dough
by Editorial Staff
Today I decided to make donuts again. The fact is that relatives are coming, which means that you need to have something in reserve, in addition to the main food. I'll tell you how to make donut dough.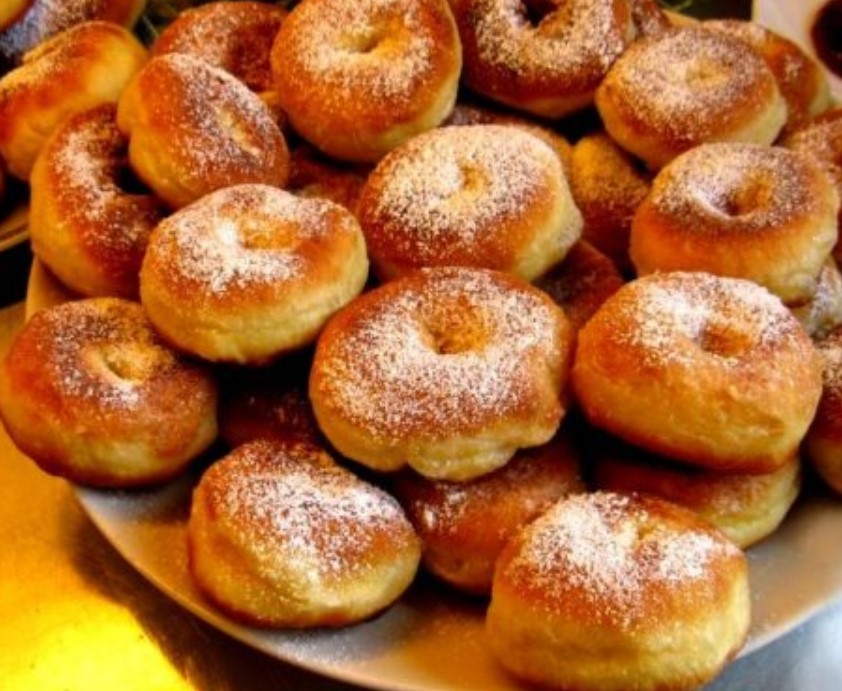 Cook: 3 hour
Servings: 10-15
Ingredients
Flour – 2 Glasses
Milk – 400 Milliliters
Eggs – 2 Pieces
Dry yeast – 15 grams
Sugar – 5 Tbsp. spoons
Salt – 1 Pinch
Powdered Sugar – To taste
Sunflower oil – 150-200 Milliliters
Directions
First, we dilute the yeast in warm milk. Add sugar, stir and set aside to ferment. In the meantime, sift the flour. We make a depression in the center of the slide. We break eggs there. Pour in yeast and milk, put a pinch of salt and knead the dough.

Put the dough in a bowl or saucepan, cover with a towel and take it to a warm place for half an hour. There it should rise at least twice.
When the dough rises well, we begin to pinch off pieces from it for future donuts. Calculate the size at your discretion. Remember to sprinkle flour on the table to prevent the dough from sticking. We make bagels with a small hole from the pieces. Leave the donuts to rise for 10-15 minutes.
In the meantime, put a frying pan with high edges or a saucepan on the stove. Pour in more vegetable oil. Heat up to bubbles. Put the raised donuts in oil and fry on both sides until tender.
We take out the finished donuts and put them on napkins so that the glass has excess oil. Sprinkle them with powdered sugar and serve.
Bon Appetit!
Also Like
Comments for "Donut Dough"