Donuts with Chocolate Glaze (Made from Yeast Dough)
by Editorial Staff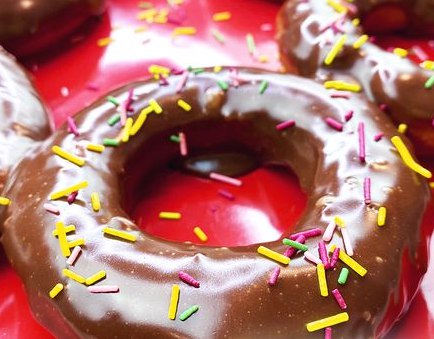 Cooking American donuts covered with chocolate glaze at home. The baked goods are airy and very tasty. The easiest donut recipe at home.
Cooking: 30 minutes
Servings: 20
Ingredients
For the dough:
Flour – 440 g
Milk (warm) – 250 ml
Dry fast-acting yeast – 11 g
Sugar – 3 tbsp
Salt – 1 pinch
Butter – 50 g
Egg – 1 pc.
Cognac (rum / vodka) – 30 ml
*
For glaze:
Black chocolate – 100 g
Milk – 70 ml
*
For frying:
Vegetable oil – 400 ml
*
For decoration (optional):
Decorative sprinkles – to taste
Instructions
Sift flour. First, make dough. Add yeast, sugar, and salt to warm milk. Mix. Add 5 tablespoon. tablespoons of flour. Mix everything thoroughly. Cover the dough with cling film and put it in a warm place for 15 minutes.
Break an egg, add rum or brandy to it, and beat. After 15 minutes, sift the flour through a sieve into the dough, but not all, but only a small part. Mix. Add warm butter, melted in the microwave or a water bath. Mix. Pour in the egg with alcohol. Add some more sifted flour.
Add the rest of the flour, stir gently with a spoon. Knead the dough by hand. Cover the dough with foil in contact and place in a warm place for 1.5-2 hours. Then knead the dough. Divide the dough into portions. Make balls and then flatten the dough into a flat cake. Let the dough rest for another 15 minutes for it to rise. Cut the center of the dough with a glass or make a hole with your hands, evenly and gently stretching the dough.

Prepare the icing. Add milk to the chocolate and melt in a water bath or the microwave.
Fry the donuts in well-heated oil over medium heat for 25 seconds on each side. Dip the donuts in the icing and they're done.

Optionally, you can decorate donuts with decorative sprinkles. From this amount of dough, 20 donuts were obtained.
Enjoy your meal!
Also Like
Comments for "Donuts with Chocolate Glaze (Made from Yeast Dough)"