Garlic and Cheese Buns (Made from Yeast Dough)
by Editorial Staff
Today I will tell you how to make garlic bread with cheese, not even bread, but buns. Garlic baked goods are very aromatic. We often bake, and I advise you to cook for health and with pleasure!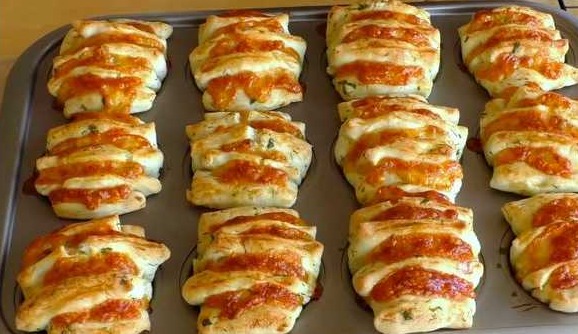 Ingredients
For the dough:
Water – 300-320 ml
Vegetable oil – 3 tbsp + for working with dough
Flour – 500 g
Pressed yeast – 20 g
or dry yeast – 7 g
Sugar – 1 tbsp
Salt – 1 teaspoon
For a garlic shaving brush:
Butter (soft) – 60 g
Garlic – 2-3 cloves
Dill greens – a small bunch
For the cheese layer:
To grease buns:
Yolk – 1 pc.
Milk – 1 tbsp
DIrections
First of all, we activate the yeast – we make a quick dough. Add warm water, a teaspoon of sugar and pressed yeast to the flour (you will need a little more than 3 glasses of 250 ml) (you can use dry yeast).
Stir the dough a little and let it stand for a few minutes.
Add salt and vegetable oil to the dough.
We lubricate the working surface with vegetable oil.
Knead the dough for a few minutes. The dough will stick, do not hammer it in flour.
Let the finished dough rise in a cup under a film in a warm place for 40-60 minutes.

The dough went well. It now needs to be slightly kneaded.
Grease the surface of the table with vegetable oil and roll out the dough into a rectangle 2-3 mm thick.
Preparing a garlic shaving brush.
Finely chop the dill.
Peel and chop the garlic (pass through a press).
Combine the garlic and herbs with soft butter and stir everything well.
We distribute the shaving brush over the dough.
Cut the dough layer into squares.

We connect the dough squares together 4-5 pieces.
Place the buns in muffin tins and straighten the "petals".
Insert small thin pieces of cheese between the dough plates (I have mozzarella).
We give the buns a rest for 10-20 minutes (it all depends on the temperature in the kitchen).
In the meantime, preheat the oven to 200 degrees.
Lubricate the buns with yolk mixed with milk.

We bake buns with garlic and cheese for 20-30 minutes.
Bon Appetit!
Also Like
Comments for "Garlic and Cheese Buns (Made from Yeast Dough)"