Colombian Donuts
by Editorial Staff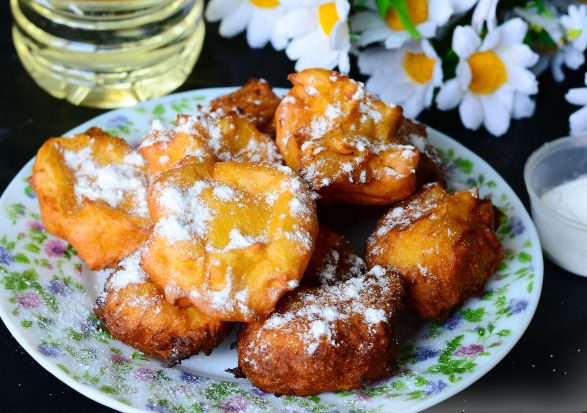 These choux pastry pancakes are not like the pancakes we are used to. I don't claim that it's cooked this way in Colombia), but the recipe is close to the Spanish choux pastry dessert, which is also popular in Latin America. I liked the custard pancakes).
Ingredients
Butter – 100 g
Eggs – 5 pcs.
Water – 200 ml
Flour – 200 g
Sugar – 30 g
Salt – 1 pinch
Vegetable oil for frying – 300 ml
Powdered sugar – to taste
Directions
Pour water into a saucepan, add salt and sugar. Add oil.
Send the saucepan over the fire and bring everything to a boil, stirring occasionally.
Then add flour and, stirring vigorously, brew the dough.
The choux pastry should be smooth and smooth.
Cool the dough slightly and add eggs to it, one at a time, beat each time until smooth with a mixer at low speed.
The dough will become less thick inconsistency.
Heat the oil well in a suitable deep bowl (I have a metal bowl). Spoon the custard dough into the boiling oil with a tablespoon.
Deep-fry the choux pastry pancakes over moderate heat until beautifully golden on both sides.
Put the finished custard pancakes on a paper towel to absorb excess fat, and then transfer to a dish. When the choux pastry has cooled slightly, sprinkle with powdered sugar. Serve with sour cream or jam.
Bon Appetit!
Also Like
Comments for "Colombian Donuts"