Deep-Fried Kefir Donuts
by Editorial Staff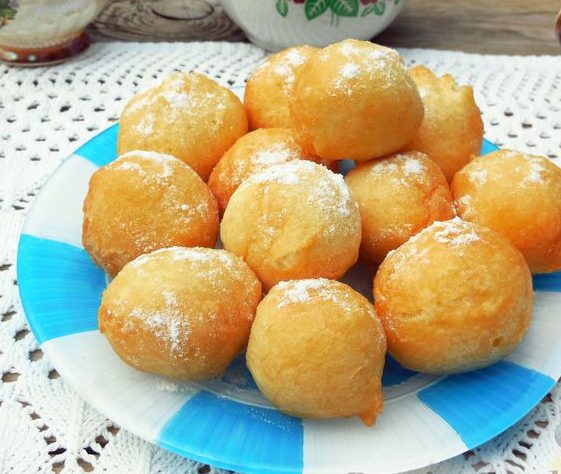 It will take very little time to prepare such tender, airy donuts with a golden crust and a soft, porous center. Donut dough is prepared with kefir. Donuts are perfect for a snack or for a delicious hearty breakfast.
Ingredients
Wheat flour – 470 g
Thick kefir – 400 ml
Eggs – 2 pcs.
Sugar – 75 g
Baking powder – 12 g (2 teaspoon)
Vanilla sugar – 12 g
Cognac (or brandy / vodka) – 1 teaspoon
Salt – 1/4 teaspoon
Vegetable oil – for deep-fat
Powdered sugar for serving – 30 g
Directions
Prepare all the food you need. It is better to choose thick and fat kefir for donuts. Fermented fatty homemade milk is very good. Instead of cognac, you can use brandy or vodka.
Add eggs, sugar, cognac, salt, and vanilla sugar to a bowl of kefir.
Stir with a whisk or mixer at low speed until smooth. Then add flour and baking powder.
Stir until smooth. The dough should be slightly thicker than the pancakes.
Heat the oil in a saucepan, then reduce the heat. We collect the dough with a teaspoon or a dessert spoon, then with a second teaspoon we lower (push) the dough into a saucepan with hot oil. To prevent the dough from sticking, we periodically moisten both spoons in unheated vegetable oil.
During frying, the dough rises and forms a round donut. Dip several donuts into deep fat at once. Fry donuts for 2-3 minutes on all sides, until golden brown.
The oil should only boil slightly. If the butter is very hot, the donuts can brown quickly and remain soggy inside.
We take out the finished donuts with a slotted spoon and put them on a napkin so that the excess oil is absorbed.
Sprinkle the donuts with powdered sugar and serve.
Bon Appetit!
Also Like
Comments for "Deep-Fried Kefir Donuts"