Deep-Fried Pesto Rolls
by Editorial Staff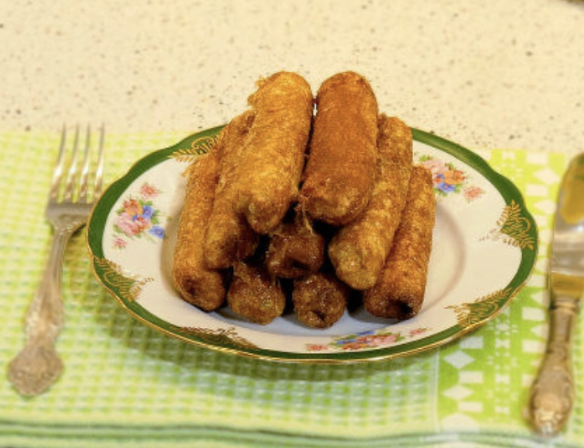 Today we will seduce you with delicious mischief! Deep-fried "rolls" of bread, ham, and pesto sauce. The dish doesn't have the same property as usefulness, but it's damn tempting and delicious! In addition to the amazing taste, bread "rolls" are also prepared very outside the box. As an avid experimenter, I was initially attracted by this aspect of this recipe. Theoretically, it seems to me that this is an ideal snack for beer, but in practice – we can have breakfast or a snack with such "rolls".
Ingredients
White toast bread
Pesto sauce
Ham
Egg
Sunflower oil for deep fat
Directions
Take a large square sandwich bread and cut the crust off. (From the leftover bread crusts, you can make the bread and berry pudding, the recipe for which we posted here recently.)

Roll out each plate of bread with a rolling pin.
We spread the cling film, put bread on the edge of the film.
Lubricate it with pesto sauce in a not very thick layer, to avoid salt, put a piece of ham on top.
With the help of a film, we make a "roll" out of all this.
Cut off the film and tighten its ends on both sides, making it look like "candy".
We do this with all the slices of bread, after which we put all the "sweets" in the freezer for 15 minutes.
After 15 minutes, take out the rolls of bread with ham and pesto sauce from the freezer, release them from the foil. Dip in a beaten egg and toss in the oil heated for deep fat. If the rolls stick to the bottom, separate them.

Eat pesto rolls made from bread and ham hot.
Enjoy your meal!
Also Like
Comments for "Deep-Fried Pesto Rolls"