Deep-Fried Sea Fish
by Editorial Staff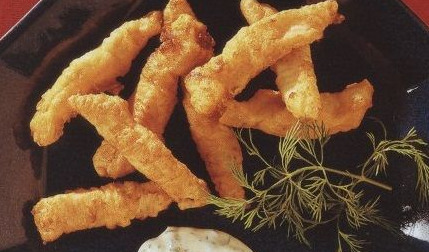 Deep-fried fish tastes better than fish fried in a pan. In addition, fried fish has a crispy golden crust, and fried fish with sour cream sauce is served.
Ingredients
Fillet of sea fish (without skin and bones) – 380 g
Flour – 1-2 tbsp
Deep fat oil
Salt and black pepper to taste
Dill sprig for serving
For the sauce:
Sour cream – 60 g (4 tablespoon. L.)
Mayonnaise – 60 g (4 tablespoon. L.)
Lemon zest – 1/2 teaspoon
Capers (finely chopped) – 30 g (2 tablespoon. L.)
Fresh spring herbs (finely chopped) – 15 g (1 tablespoon. L.)
For batter:
Wheat flour – 75 g (3/4 cup)
Parmesan cheese (grated) – 25 g (1/2 cup)
Baking soda – 1 teaspoon.
Large egg – 1 pc.
Milk – 150 g (2/3 cup)
How to deep-fry fish:
Directions
Prepare the sauce. In a small bowl, combine sour cream, mayonnaise, lemon zest, capers, and herbs, season with salt and pepper to taste. Cover the bowl with cling film and refrigerate.
Prepare the batter. Sift flour into a bowl, add baking soda, parmesan, egg yolk, a little salt, and milk. Stir well, then add 90 g (6 tablespoons) of water, mix well with a whisk, salt, cover with cling film and refrigerate.
Cut the fish fillet into small shelves. Pour a couple of tablespoons of flour, a little salt, and pepper into a small plate, put the chopped fish into the flour mixture, mix.
Pour oil into a deep fryer or another deep heat-resistant dish, put on medium heat, heat to a high temperature, about 180 degrees.
Beat the egg whites until fluffy and gently insert them into the dough, stir until smooth.
Take one piece of fish, dip in batter, and then put in hot oil. Deep-fry the fish, turning, about 3-4 minutes. Put the fried fish on a paper towel to drain off excess fat. Serve fried fish with sauce.
Enjoy your meal!
Also Like
Comments for "Deep-Fried Sea Fish"