Sea ​​Fish Ceviche with Mango
by Editorial Staff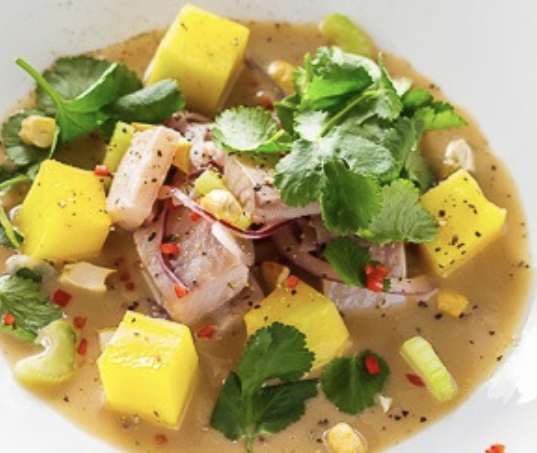 Today ceviche is a delicacy made all over the world, experimenting with all sorts of ingredients, flavors, and textures. But at the heart of the dish has always been, is, and will be fresh fish in Leche de Tigre, "tiger's milk", as the mixture of citrus juices and spices is called, in which it is marinated. Because ceviche is a distinctively sour dish, sweet tropical fruits go well with it. I decided to use mango, but pineapple or even regular sweet peaches will do just as well. In short, experiment for your pleasure!
Ingredients
200 g fillet of sea bass or other sea fish
juice of 2 limes
1/2 lemon juice
1/2 orange juice
1 tablespoon vegetable oil
a few sprigs of cilantro
2 cloves of garlic
1/2 red onion
1 celery stalk
1/2 hot pepper
1/2 mango
1 tablespoon cashew nuts
salt
black pepper
Directions
Combine citrus juice, a spoonful of vegetable oil without a strong odor (you can take grape seed oil or olive oil), cilantro stalks, garlic, 1/4 of red onion, half a celery stalk in a blender, add a little salt, and punch well with a blender. Let it brew for 10 minutes, then strain through a fine sieve, squeezing the maximum "tiger's milk" out of the pulp with a spoon, after which it (the pulp) can be thrown away.
As with any raw fish dishes, for ceviche, it is best to use fish that has spent at least 72 hours at -18 degrees. Freeze the whole fish, defrost it slowly, transferring it from the freezer to the top shelf of the refrigerator within 24 hours, and filing it by cutting off the skin and removing small bones with tweezers.
Cut the fish into cubes, cover with "tiger milk", add thinly chopped red onion, petioled celery, finely chopped red pepper (adjust the severity of the dish to your taste), and leave to marinate for 20-30 minutes. If you wish, you can take several types of fish or supplement it with fresh seafood, so that the ceviche will turn out to be even tastier. 5 minutes before the sea fish ceviche is done, add the diced mango or other sweet fruit pulp and stir again.
Divide the ceviche into deep bowls or bowls, drizzle with the remaining "tiger milk", garnish with cilantro leaves, sprinkle with chopped nuts, and season with freshly ground black pepper.
Enjoy your meal!
Also Like
Comments for "Sea ​​Fish Ceviche with Mango"