Peruvian Ceviche with Fish
by Editorial Staff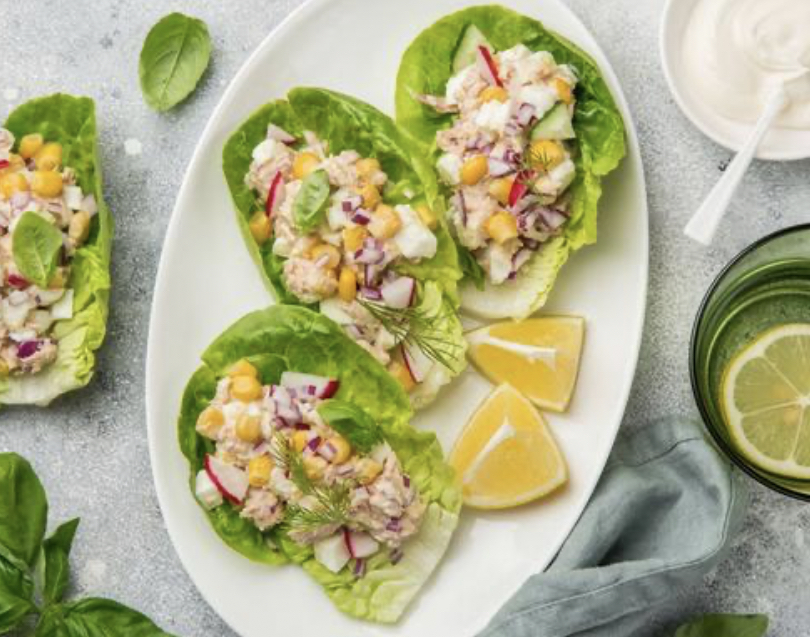 The Peruvian ceviche appetizer is a great way to enjoy the flavor and texture of fresh, raw fish. For this recipe, sea bass or flounder are best suited. The fish is cut into cubes and marinated for several minutes in a sour dressing of lime and lemon juice with spices. The ceviche is then served with thin onion rings in bowls of lettuce leaves. Grill the corn and sweet potato slices as a side dish. If desired, the snack can be supplemented with seaweed.
Ingredients
0.6 kg. fish fillet (sea bass or flounder), cut diagonally into 2 cm cubes.
1 l. chilled boiled water
1 red onion, halved and thinly sliced
1 aji Amarillo pepper, seeded and baffled and diced
1 clove of garlic
1/4 Art. freshly squeezed lime juice
1/4 Art. freshly squeezed lemon juice
2 teaspoon finely chopped cilantro leaves
2 ears of corn, split in half
1 sweet potato, cut into 0.5cm slices
2 tbsp rapeseed oil
1 head of lettuce
Japanese seaweed, for serving
Directions
Preheat grill to moderately high heat and brush with vegetable oil.
Place the fish in a non-reactive bowl. Add 3 tablespoon. chilled boiled water and gently rinse the fish. Drain the water.
Add the onion to the remaining chilled water and let it brew.
Meanwhile, place the pepper, garlic, and a pinch of salt in the mortar and pestle. Grind to make a paste.
Combine fish, lime and lemon juice, garlic paste, salt, black pepper, and cilantro. Leave to marinate for 10 minutes.
Brush the corn and sweet potato slices with butter and place them on the grill. Cook for about 10 minutes.
To serve, spread the ceviche over four lettuce leaves and top with half rings of onion. Serve with popcorn and sweet potatoes, garnished with Japanese seaweed if desired, and corn cobbed.
Enjoy your meal!
Also Like
Comments for "Peruvian Ceviche with Fish"