Peruvian Ceviche with Ecuadorian Roots
by Editorial Staff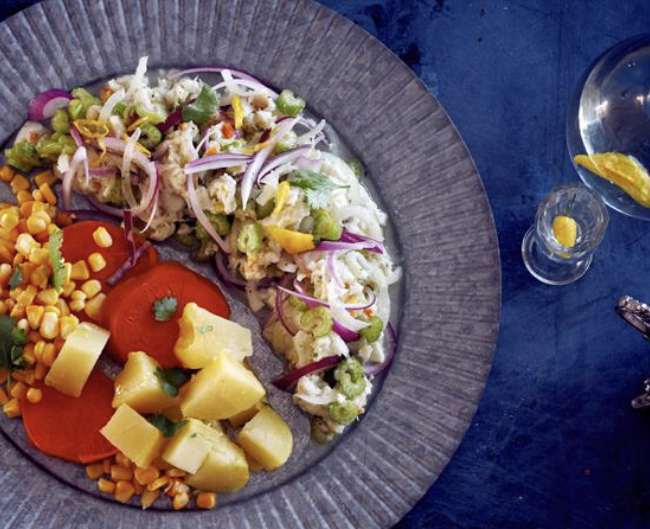 Ceviche, popular in Latin America, has recently become a very fashionable dish here. At home, this fish dish is prepared in two ways: in Peru, they prefer raw fish, and in neighboring Ecuador, slightly cooked fish and seafood are used. And the Peruvians, who invented ceviche, serve sweet potatoes to ceviche, to which we, with Russian generosity, added ordinary potatoes.
Ingredients
2–5 pods of Aji Amarillo or Rocoto hot pepper
600 g cod back fillet
6 limes
3 celery stalks
1 medium red sweet onion
1 medium onion
3 cloves of garlic
1 small bunch of cilantro
salt freshly ground black pepper
For filing:
2 medium sweet potatoes (sweet potatoes)
2 medium potatoes
1 can (300 g) sweet corn kernels
Directions
Cut the fish into medium-sized, easy-to-eat slices, salt, and season with black pepper. Cut half a regular onion into thin rings. Squeeze juice from 5 limes, pour over fish, stir. Add onion, garlic, stir again, leave for 1 hour.
Prepare the tiger milk dressing by pouring the fish marinade into a blender. Chop 1 celery stalk, half hot pepper, and the remaining half onion, put in a blender to marinade. Add the chopped cilantro stalks. Grind until smooth and pour over the fish for 1 hour.
For serving, wash the sweet potatoes and potatoes with a brush and wrap them separately in foil without peeling. Bake in the oven at 200 ° C until soft, about 40 minutes. Then dip in cold water for a couple of minutes and peel, cut into circles. Place on warmed plates along with the warmed corn.
Peel the red onion and cut it into thin rings. Thinly chop the remaining celery, hot pepper. Pour the "tiger's milk" from the fish into the gravy boat. Put the fish in bowls, add chopped vegetables and cilantro leaves, serve with hot garnish and sauce.
Enjoy your meal!
Also Like
Comments for "Peruvian Ceviche with Ecuadorian Roots"