Ecuadorian Shrimp Ceviche
by Editorial Staff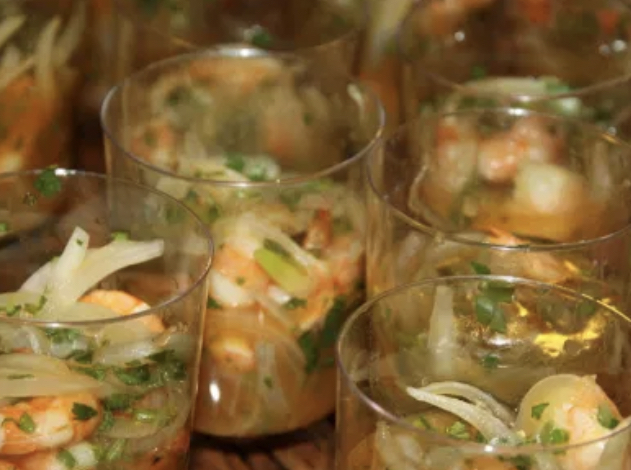 Ceviche is a fish or seafood dish. Peru is considered the birthplace of the switch, but today it is popular in many countries of Latin America. The dish consists of finely chopped raw fish, which is briefly marinated in lime juice. Red onion cut into rings or Peruvian hot pepper rocoto are added to the fish.
Ingredients
1 kg of medium-sized shrimp in shell (preferably raw frozen);
3 onions, not cut into rings, but segments, into thin strips;
3 tablespoon salt;
1 tablespoon lime juice;
1/2 teaspoon sugar;
1.5 cups freshly squeezed orange juice (6 oranges);
1/2 cup lime juice
3/4 cup ketchup
1/2 teaspoon sugar;
2-3 hot chili peppers or hot Tabasco sauce;
2 tablespoon vegetable oil;
salt;
cilantro.
Directions
First, you need to cook the onion, a lot depends on it in this dish. The onions should be soft, pickled with limes, and completely different from regular onions.
Cover the onion with 3 tablespoon. salt and leave for 20 minutes.
Rinse the onion under running cold water, squeeze and mix in a bowl with 1 tablespoon. lime juice and sugar. Set aside to marinate for at least 30 minutes. Boil a small amount of water in a saucepan, add the shrimp in the shell and bring to a boil, stirring all the time until all the shrimps turn red. Drain the water, but keep it. Pour shrimp with cold water, peel off the shell, make an incision on the back and remove the black vein, if any.
Put the shells in the water from the shrimp and boil for 5-7 minutes. We need this water for the sauce. Squeeze out the shells. Save water.
In a bowl, combine lime juice, orange juice, tomato ketchup, hot pepper, sugar, and vegetable oil. Season with salt to taste. Mix well.
The rest is very simple. Put the shrimp in a large bowl or saucepan, add the marinated onion with the juice and the citrus sauce and add the water from the boiling of the shrimp shells. The sauce should cover the whole shrimp. Put in the refrigerator for several hours, or better overnight.
Before serving, taste and add salt, sugar, pepper, and lime juice if necessary. Add finely chopped cilantro. You should have a hot-sour-sweet sauce that tastes delicious.
Enjoy your meal!
Also Like
Comments for "Ecuadorian Shrimp Ceviche"