Shrimp Ceviche
by Editorial Staff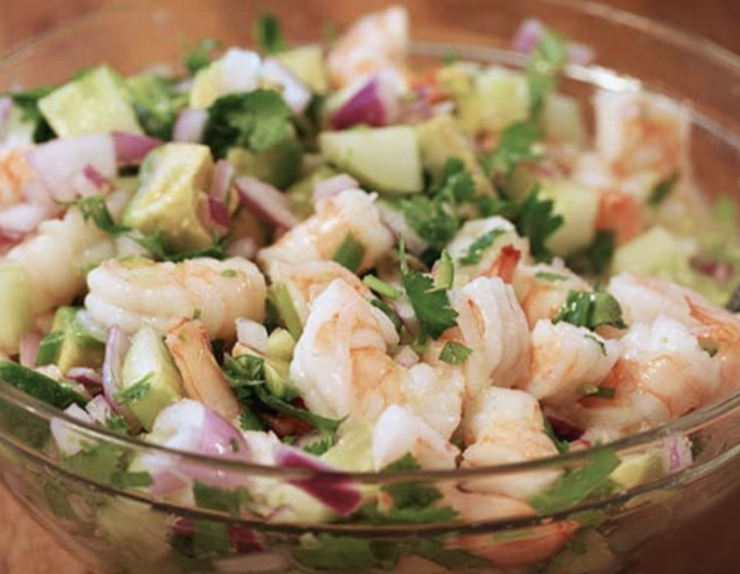 A light and fresh Peruvian snack – shrimp in lemon juice with vegetable salsa (avocado, cucumber, red onion, chili, and herbs). Elegant, appetizing, and divinely delicious!
Ingredients
shrimp: 450 gr. (medium, thawed, and peeled)
lime juice: 3/4 cup (from 4 limes)
lemon juice: 3/4 cup (from 2 lemons)
red onion: 1 cup finely chopped
chili serrano or jalapeno: 1 pc. (finely chopped, ribs and seeds removed)
fresh cilantro: 1 cup chopped
cucumber: 1 pc. diced
avocado: 1 pc. peeled and sliced
Directions
In a large saucepan, bring 2 liters of salted water (1 tablespoon salt) to a boil. Add shrimp and cook for 1-2 minutes, depending on the size of the shrimp. But not longer, otherwise, the shrimp may taste hard.
Transfer the shrimp from the saucepan to a bowl of ice water to stop cooking.
Drain the shrimp. Cut each in half.
Place the shrimp pieces in a glass or ceramic bowl. Toss in lime and lemon juice. Cover and refrigerate for half an hour.
Add chopped red onion and serrano chili. Leave to cool for another half hour.
Add cilantro, cucumber, and avocado, and drain with some lemon juice just before serving. Taste and salt if necessary.
Enjoy your meal!
Also Like
Comments for "Shrimp Ceviche"