Shrimp Ceviche with Suluguni
by Editorial Staff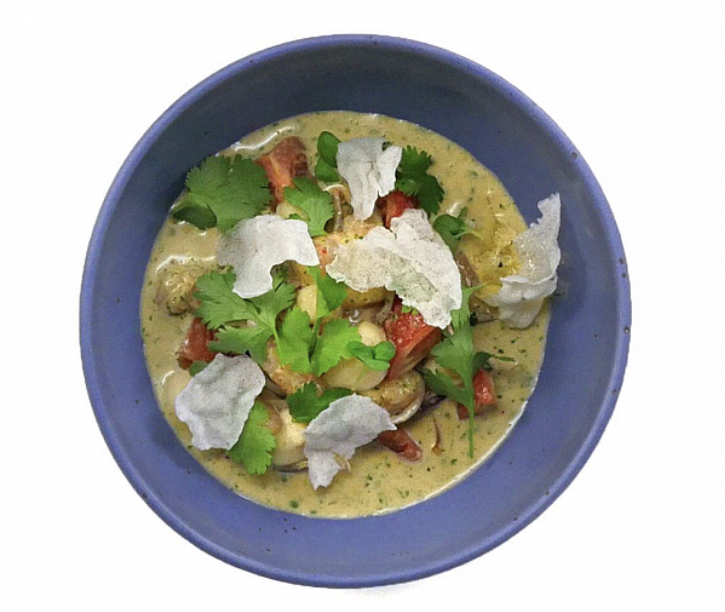 A ceviche is an option for serving finely cut ingredients – universal for bruschetta, eating just like a salad, as an excellent accompaniment to eggs.
Ingredients
Shrimp 320 g
Red onion 80 g
Tomatoes 240 g
Cilantro 20 g
Lemon juice 130 ml
Grapeseed oil 180 ml
Kimchi sauce 70 g
Sugar syrup 50 ml
Soy sauce 50 ml
Garlic 20 g
Chilli 10 g
Smoked suluguni cheese 100 g
Milk 50 ml
Cream 50 ml
Basil sprouts taste
Rice chips taste
Salt taste
The ground black pepper taste
Directions
Punch the kimchi sauce, syrup, lemon juice, soy sauce, chili pepper, garlic, grape seed oil, with the addition of salt and pepper, until smooth in a blender. Then add cilantro and beat again.
Suluguni cut into small cubes, mix in a saucepan with milk and cream. Put on fire and wait for the cheese to melt, 3-4 minutes. Add pepper.
Punch the suluguni together with the liquid portion in a blender until smooth, pour into a pastry bag, and refrigerate for an hour.
Cut the shrimp in half. Cut the red onion into thin strips, blanch the tomatoes, peel, and chop randomly.
Mix vegetables and shrimp in a bowl, season with salt and pepper, pour lemon kimchi generously, stir again and refrigerate for 5 minutes.
Place ceviche on an ice plate, garnish with suluguni cream, herbs, and rice chips.
Enjoy your meal!
Also Like
Comments for "Shrimp Ceviche with Suluguni"