Ceviche with Shrimps
by Editorial Staff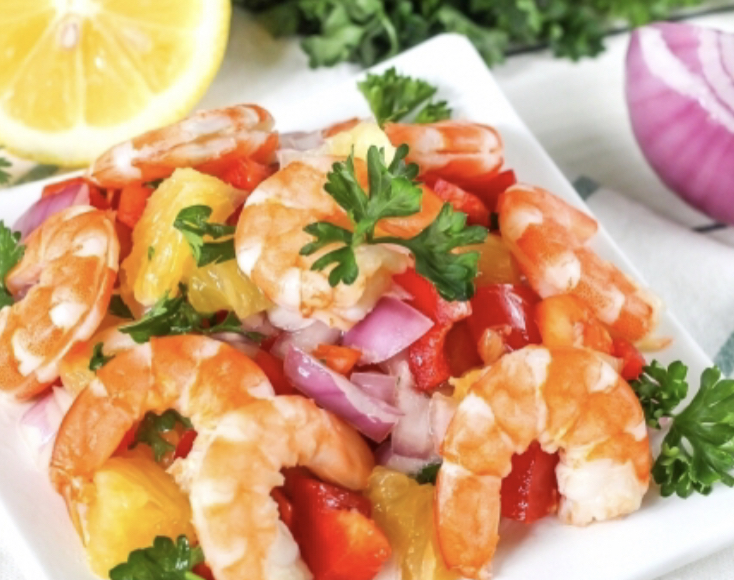 Shrimp ceviche is a delicious dish that you can easily prepare in your kitchen with the right ingredients on hand.
Ingredients
Shrimps – 150 g
Lemon – 0.5 pcs.
Orange – 1 pc.
Bulgarian red pepper – 1 pc.
Salt – 0.5 teaspoon
Olive oil – 0.5 teaspoon
Basil or raspberry vinegar – 0.5 teaspoon.
Greens – 1-2 branches
Red onion – 0.5 pcs.
Directions
Prepare the food you need. You can defrost the shrimp, or you don't have to bother with it.
In a saucepan, boil water and place the shrimp in it, add salt, bring to a boil and turn off the heat, leaving the seafood to cool in the water for 5 minutes.
This only applies to boiled-frozen shrimps, since we no longer need to cook them, but just need to warm them up. Boil freshly frozen shrimp for 3-5 minutes.
Squeeze the juice from half a lemon and an orange on a press.
Transfer it to a deep bowl or another container.
Remove the shrimp with a slotted spoon and peel off the shell, and also be sure to remove the intestinal vein – it runs along the entire length of the tail!
Put the peeled, warm shrimp in citrus juice and leave them there for 25 minutes. During cooling, they will draw the juice into themselves.
At this time, peel the onion and the seeds from the bell pepper by washing the vegetables in water. Peel and file the remaining half of the orange. Cut all of these ingredients into cubes.
Season the salsa with olive oil, vinegar, and grind with chopped herbs. Place on a serving plate.
Add marinated seafood to your plate.

Garnish to taste and serve the shrimp ceviche to the table.
Enjoy your meal!
Also Like
Comments for "Ceviche with Shrimps"