Shrimp Ceviche
by Editorial Staff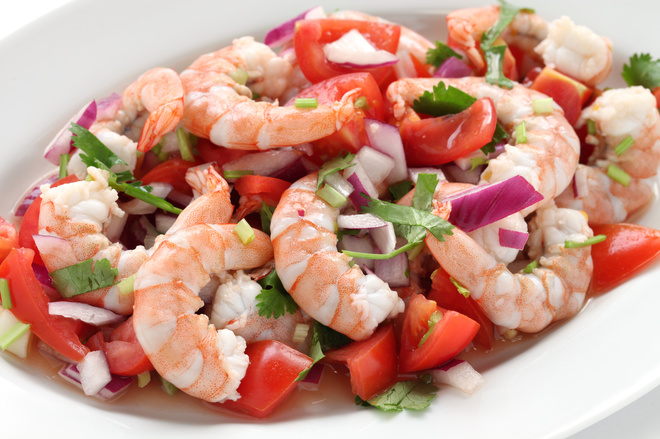 Ceviche (Peruvian, Latin American) is marinated in lime juice or another citrus raw fish or seafood. Protein denaturation occurs under the influence of acid, i.e. the same thing that happens to the product during heat treatment (in the photo, gray shrimps turned pink after being juiced). The difference lies in the preservation of natural taste, healthy composition, and juiciness. Combination with vegetables is an unsurpassed aroma, taste delight, and a long pleasant aftertaste. Those who like spicy can add chili pepper, which will bring the taste of the dish closer to the original Peruvian recipe.
Ingredients
Peeled shrimp – 500 g,
juice of four lemons,
one red onion,
one clove of garlic
half a red bell pepper,
one hot pepper,
one avocado,
one tomato,
cilantro and celery greens,
a pinch of sugar
salt.
Directions
Peel the shrimp.
Chop the red onion finely.
Finely chop the garlic using a press or knife.
Cut the sweet pepper into cubes.
Peel hot pepper from seeds, chop finely.
Separate the peel and seeds from the tomato, cut them into cubes.
The avocado also needs to be sliced. You can choose any shape.
Stir all the ingredients, add lemon juice, salt, sugar, and add the pre-cut greens.
Marinate the salad in the refrigerator for at least an hour.
Enjoy your meal!
Also Like
Comments for "Shrimp Ceviche"