Guacamole with Shrimp Ceviche
by Editorial Staff
Guacamole is a sauce, but rather an avocado appetizer. This is a national Mexican dish. Not even Mexican, though. It has become very popular and recognizable among snacks all over the world.
The history of guacamole goes back centuries. It is believed that the Aztecs discovered the guacamole recipe, but there is no evidence for this. Or until important historians decipher the ancient inscription on the Mexican pyramids.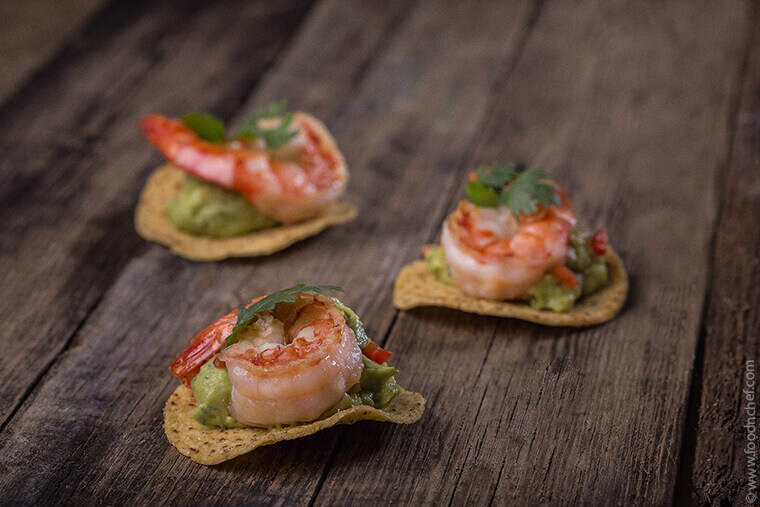 As well as there is no clear recipe for guacamole. Depending on the region and country, the size of the cut and the ingredients may vary, but one thing remains unchanged – the presence of avocado, lime, and salt.
Ingredients
Avocado – 4 pcs.
Juice of 1 lime
Celery greens – 50 g.
Purple onion – 2 pcs.
Salt to taste
Ingredients for shrimp ceviche:
Cocktail shrimps – 200 g.
Red bell pepper – ½ pc.
Salt to taste
Pepper to taste
Olive oil – 2 tablespoons
Cilantro is optional for decoration
Directions
Guacamole
Cut the avocado in half and remove the pit. Choose all the pulp with a hatch. Transfer to a separate bowl and thoroughly knead the avocado pulp with a fork or blender until creamy.
Add finely chopped onion, celery, lime juice, salt.
Mix thoroughly.
Ceviche:
Finely chop the shrimp.
Peel the bell peppers and cut them into small cubes.
In a bowl, combine shrimp, pepper, olive oil, pepper, salt. Let it brew for 10 minutes.
Innings
Place guacamole on warm wheat cakes, ceviche on top, and garnish with cilantro.
Enjoy your meal!
Also Like
Comments for "Guacamole with Shrimp Ceviche"