Shrimp Ceviche with Cilantro
by Editorial Staff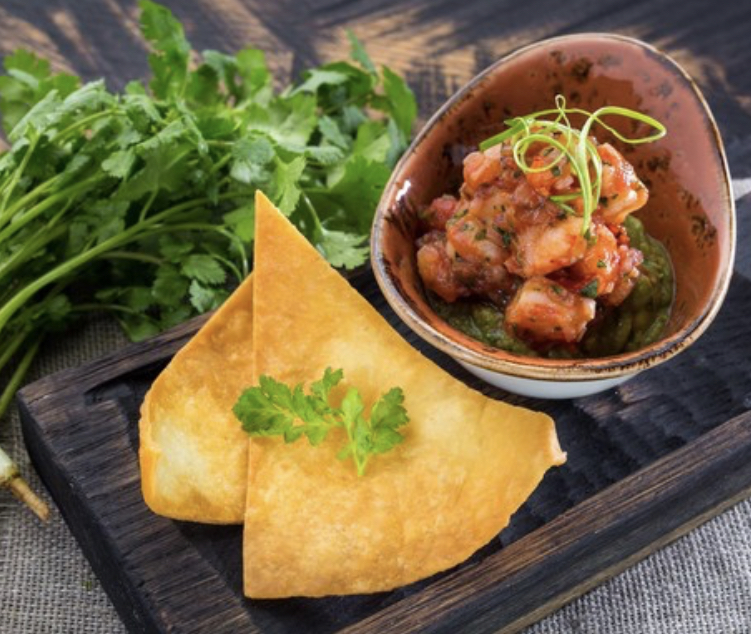 Ceviche is a very old dish, dating back at least 2 thousand years. It was first prepared in Peru. The ceviche recipe is based on fresh fish marinated in citrus juice. Various sources claim that ceviche was consumed along the entire Peruvian coast about 2 thousand years ago. The Incas made this dish with salt, hot pepper, sour orange, and onion. Today, like many popular dishes, ceviche has so many varieties that it's hard to count.
Ingredients
Fresh tiger shrimps – 0.5 kg
Ripe tomatoes – 1 kg
Peeled red onions – 100 g
Cilantro – 30 g
Chili pepper (green and red) – 1/2 each
Lime – 1 piece
Directions
Clean fresh tiger prawns with the head in a main way, rinse thoroughly, and immerse in boiling water for 30 seconds, then in ice water and cut into 0.5 cm washers.
Core the ripe tomatoes and cut into 0.5 cm cubes. Cut the peeled red onion into small cubes (as far as possible). Chop the washed and dried cilantro at random. Cut the chili peppers (green and red) into small cubes, removing the seeds. Squeeze lime out with your hands (this is important!).
Combine all ingredients and mix thoroughly.
It is important to add salt before serving.
Enjoy your meal!
Also Like
Comments for "Shrimp Ceviche with Cilantro"