Ecuadorian Shrimp Ceviche
by Editorial Staff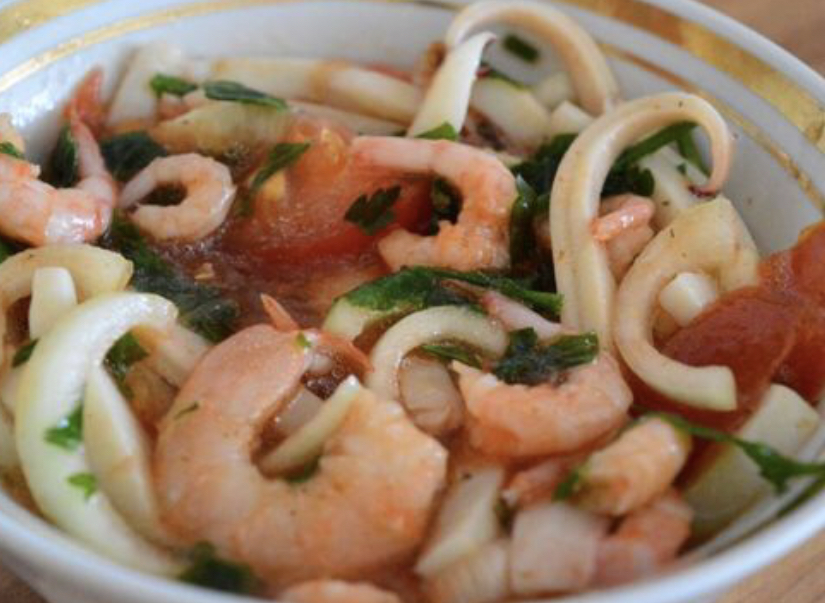 Various variations of the typical Ecuadorian fish dish ceviche are a very popular food among Ecuadorians. Ceviche from Ecuador is different from Peruvian, but the main ingredients for cooking are the same: fish, lemon juice, onion, pepper. The main difference is that Ecuadorians add shrimp and various sauces to this dish, due to which the consistency of ceviche is soup-like. Ecuadorian traditional ceviche is served to the table, accompanied by fried corn and banana chips, but potatoes, as in Peru, are not added.
One of the advantages of the "shrimp ceviche" dish is that the shrimp are used for it already boiled, which is especially important for those who cannot eat raw seafood. Plus, this recipe is very easy to prepare.
Ingredients
800 g of boiled and peeled shrimp.
2 heads of onions, preferably red, cut into very thin half-rings.
4 tomatoes, cut into slices.
Juice 15-20 limes.
Juice of one orange.
A bunch of finely chopped cilantro.
Half a glass of tomato juice.
Salt and olive oil to taste.
Directions
Grate the chopped onion with salt and rinse with cold water to remove the bitterness.
Mix all ingredients and refrigerate for two hours.
Serve with chili peppers, corn, and fried bananas.
The dish is practical, tasty, and suitable for any occasion!
Enjoy your meal!
Also Like
Comments for "Ecuadorian Shrimp Ceviche"