Equatorian Shrimp Ceviche
by Editorial Staff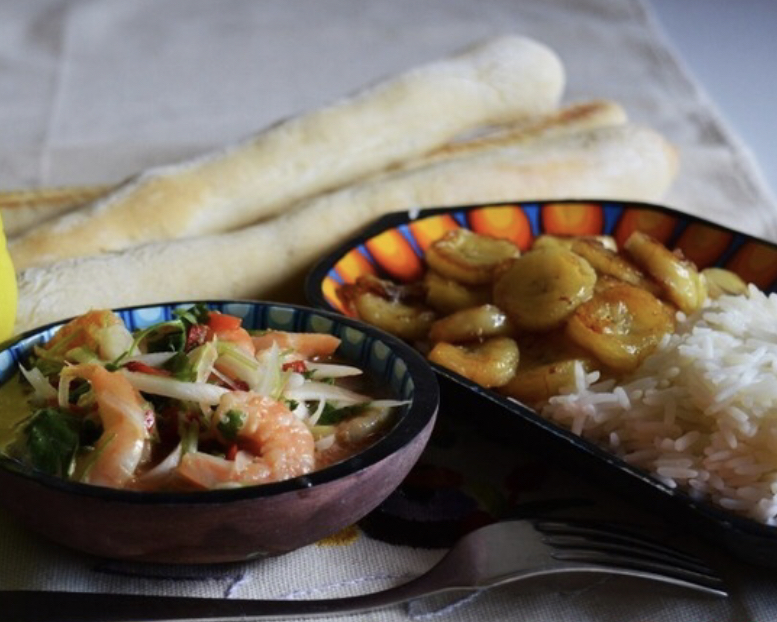 This cold Latin American dish is perfect for hot summer days. It is fragrant, incredibly tasty, and very dietary!
Ingredients
Shrimps – 1 kg
White onions (Red will also do. It should not be spicy.) – 3 pcs
Cilantro – 2 bunches
Salt – 2 tbsp
Sugar – 1 teaspoon
Vegetable oil – 1 tbsp
Ketchup (tomato without additives or tomato paste) – 200 g
Orange – 6 pieces
Lemon juice (TM Sicilia juice) – 2 tbsp
Lime (juice TM Sicilia) – 2 pieces
Chili pepper – 2 pieces
Directions
Defrost shrimps and rinse.
Boil in a little water until the shrimp turn red and peel. Keep the broth and shells.
Cut the onion into feathers, add sugar, and 1 tablespoon of Sicilia TM lemon juice.
Dip the shrimp shells back into the broth in which the shrimps were boiled and cook for about 5 minutes. Thus, we will prepare the base for the marinade. Remove the shells and boil the broth until thick. We will get "tiger milk". It is advisable to use tiger prawns. Hence the name.
Mix boiled and cooled shrimps with pickled onions, finely chopped cilantro, and chili.
Mix tiger milk with ketchup and sunflower oil. Add lemon and lime juices and freshly squeezed orange juice.
Pour the marinade over the ceviche and refrigerate for 6 hours.
Ceviche is served in Ecuador in bowls or tall glasses with boiled crumbly rice and fried bananas.
Enjoy your meal!
Also Like
Comments for "Equatorian Shrimp Ceviche"