Fish Ceviche
by Editorial Staff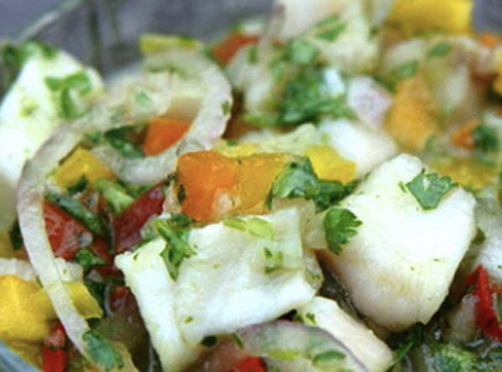 Fish ceviche is essentially fresh fish that has been marinated in lemon juice with the addition of spices and vegetables. Due to its quick digestibility and preparation, fish according to this recipe is ready in 4.5 hours. Fish ceviche is very popular in the Mediterranean countries, as well as in South America and Japan.
Ingredients
Fillet of white fish (halibut, tilapia, pike perch, sole, or perch) – 1 kg.,
Hot red pepper – 0.5-1 pcs.,
Garlic – 4 teeth
Onions (preferably red) – 4 pcs.,
Tomatoes (medium-sized) – 4 pcs.,
Sweet bell pepper – 2 pcs.,
Orange – 1 pc.,
Lime – 20 pcs., Or lemons – 10 pcs. (but it is possible and less than 2 times),
Cilantro – 1 bunch,
Vegetable oil – 3 tablespoons,
Salt to taste.
Directions
We clean the fish, gut and cut the fillet.
If you have not bought fish yet, you can read how to choose it here, and how to clean the fish read here.
Cut the fish fillet into small cubes with a side of about 1.5×1.5 cm.
Remove all small bones from the fish fillet with tweezers.
Wash, dry, and chop cilantro. We peel the garlic and press it or chop it finely.
My hot pepper, wipe it dry. Remove the stalk with the core and seeds from the pepper, and cut the pulp into very thin rings.
Squeeze juice from 10 limes or 5 lemons.
In an enamel, glass, or ceramic dish without open metal, combine the chopped vegetables with the fish, add a large pinch of salt, mix and fill with lime or lemon juice.
The fish should be completely covered with vegetables and lemon juice.
fish with vegetables and lemon juice
We cover the dishes with fish and marinade with a lid and send them to the refrigerator for 4 hours.
During this time, the marinade should cook the fish, and the vegetables and spices should make it incredibly aromatic.
Peel the onion and cut it into half rings.
For this recipe, it is advisable to take small red onions or shallots.
Pour boiling water on the onion, add a pinch of salt, mix and let stand for 10 minutes.
This procedure is necessary to remove bitterness from onions.
Then drain the onion and rinse with water.
After 4 hours, we drain the marinade from the fish and take out the pieces of fish, we do not need everything else from the marinade.
We wash, rub and cut the tomatoes into small pieces,
My sweet pepper, remove the core, stalk, seeds, and cut the pulp into small squares.
Wash, dry, and chop the cilantro very finely. chopped vegetables for ceviche
Combine tomatoes, peppers, cilantro, onions, and fish in deep glass, enamel, or ceramic dishes, pour the juice of the remaining limes or lemons, mix, add vegetable oil, salt to taste, stir, cover, and put in the refrigerator to cool the dish. pickled fish with vegetables.
The fish ceviche is ready, serve with fried potatoes or fries, as well as corn or potato chips and spicy tomato sauce.
Enjoy your meal!
Also Like
Comments for "Fish Ceviche"