Salmon Fish Ceviche
by Editorial Staff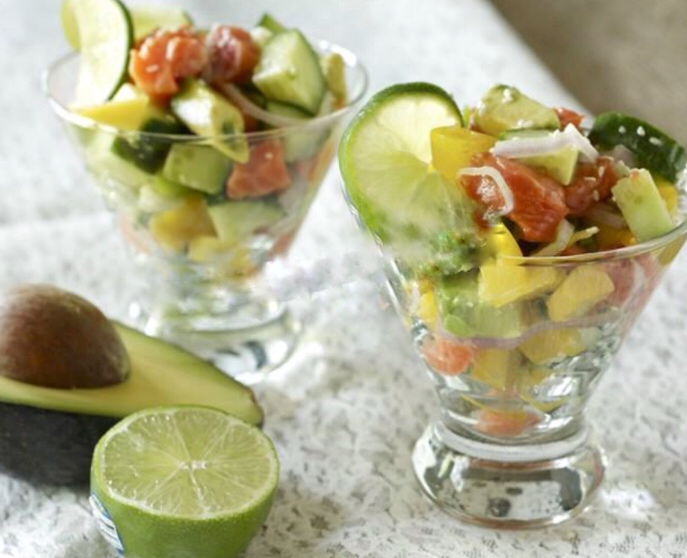 An exotic Peruvian dish – refreshing and low in calories! Ceviche is prepared with the addition of seafood or fish and belongs to the cuisine of Peru. Its peculiarity is that raw fish is used for it – it is briefly marinated in lime juice, and then served along with various vegetables and fruits. Try it – it's very unusual and tasty, and besides, it's good for your figure!
Ingredients
Salmon 300
Bulgarian pepper 100
Avocado 100
Chili pepper 1
Cucumbers 150
Mango 100
Shallots 50
Lime 90
Sesame 1
Olive oil 2
Salt to taste
Pepper to taste
Directions
Cut the salmon into cubes.
Also cut the avocado, mango, bell pepper, and cucumber into cubes. Try to keep all the pieces about the same size (about 1.5 cm).
Peel the onion and cut it into thin rings.
Cut into smaller cubes or small jalapeno strips.
Squeeze the juice out of the lime and pour over the chopped fish, vegetables, and fruits.
Add sesame seeds to the mixture, salt, and pepper if desired.
Pour in olive oil and mix gently with a wooden spatula.
Put the ceviche in the refrigerator for 20 minutes, after which it can be served in beautiful bowls and garnished with lime slices.
Enjoy your meal!
Also Like
Comments for "Salmon Fish Ceviche"