Ceviche with Salmon
by Editorial Staff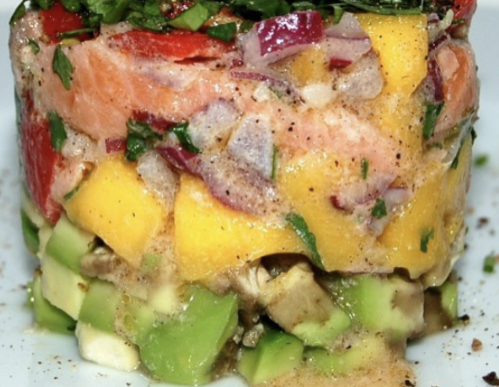 Ceviche is a Mexican dish. Most often ceviche is prepared from raw fish marinated in sour lime, lemon, orange juice. Various additives are possible. I liked this salmon ceviche recipe and hastened to prepare it. I liked the result, I will do it again. It is very convenient to cook as a festive dish, because you can make it in advance, before the arrival of guests. So, try and taste the salmon ceviche.
Ingredients
To make ceviche you will need:
raw salmon – 300 g;
mango – 1 pc.;
onion (purple) – 1 pc .;
sweet pepper – 1 pc.;
avocado – 1 pcs .;
cilantro – a few twigs.
For the marinade:
juice – 0.5 lemon;
zest – 0.5 lemon;
rice vinegar – 1 tablespoon. l .;
ginger – a piece of root 2 cm;
olive oil – 5 tablespoon. l .;
salt, ground black pepper – to taste;
sugar – if you deem it necessary.
Directions
Cut the salmon into small squares, about 1 – 1.5 cm inside.
Cut sweet pepper into small squares.
Cut the onion into small squares.
Cut the mango into squares, peeling it off.
Finely chop the cilantro.
Prepare all the ingredients of the marinade, mix them in one bowl. Additionally, sugar can be added to the taste.
Place all chopped vegetables in one bowl and mix.
Pour marinade over vegetables with fish and remove to a cool place for 30 minutes.
After 30 minutes, peel and chop the avocado.

Place a serving salad ring on a plate. Put the avocado on the bottom of the ring, and spread the resulting mixture of fish and vegetables on top of the avocado. Tamp tightly.
Carefully remove the ring and sprinkle with finely chopped cilantro on top of the salmon ceviche. Scatter finely chopped chives and freshly ground black pepper around.
Enjoy your meal!
Also Like
Comments for "Ceviche with Salmon"