Salted Salmon Ceviche
by Editorial Staff
This is an excellent dish for a romantic dinner or a festive table – light, hearty, tasty, and beautiful.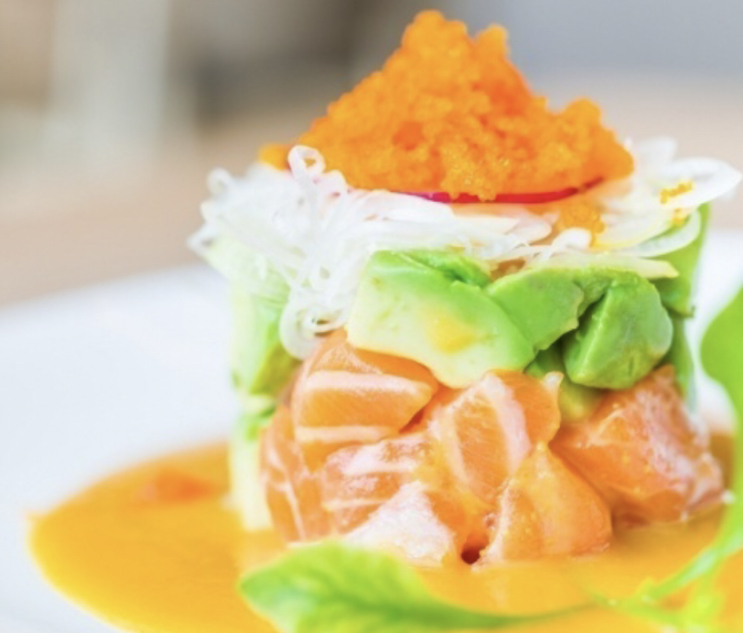 Ceviche is a Latin American dish made from raw fish marinated in citrus juice. Since good fresh fish is tight in most regions of Russia, we will take lightly salted salmon and make the Latin-Russian version of the Ceviche.
Ingredients
Salted salmon fillet – 200 g
Juice of 1 lemon and 2 oranges
Olive oil – 1-2 tablespoons
Bulb onions – 1 pc.
Greens – for decoration
Avocado – 1-2 pcs.
Real or simulated caviar – 40 g
Directions
Cut lightly salted salmon into small cubes.
Squeeze the juice from 1 lemon and 2 oranges.
Put pieces of salmon in a bowl and cover with juice, add a little olive oil. Spice up. Cover and leave for 30 minutes.
Peel the onion, cut into thin rings, scald with boiling water to remove the bitterness. Wash greens, dry, and chop.
Cut the avocado in half, remove the pit, carefully remove the pulp and cut into cubes.
Throw the fish on a sieve, collecting the remaining juice – this will be our sauce. Taste the sauce and add a little salt if necessary.
Put a serving ring on a plate (you can use a ring from a plastic bottle). Layer fish layer, avocado layer, onion layer. Carefully remove the ring.
Decorate with a slide of real or simulated caviar, pour over the sauce, add herbs.
There are many options for ceviche – with citrus pulp, bell peppers, capers. Be creative! Especially if you have good fresh fish. Then you can make a real authentic raw fish recipe!
Enjoy your meal!
Also Like
Comments for "Salted Salmon Ceviche"