Salmon Ceviche Recipe
by Editorial Staff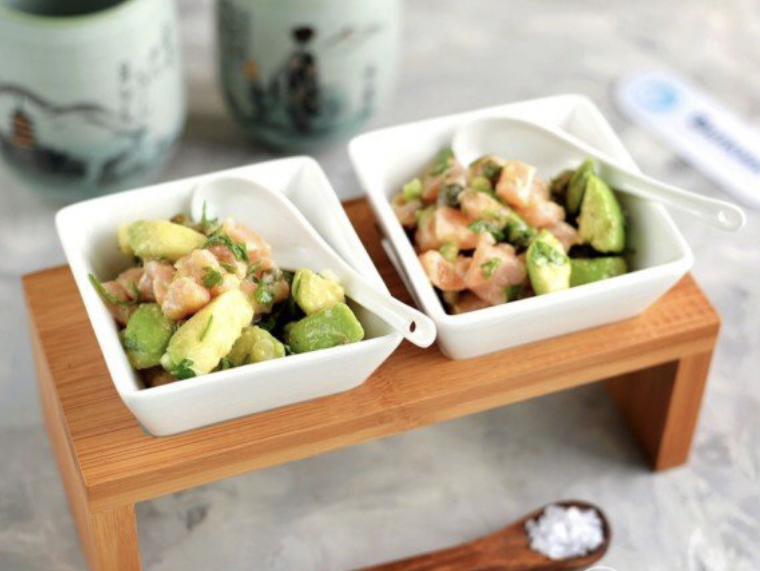 Ceviche is a dish of fish or seafood marinated in lime juice. There are just a huge number of varieties of such a snack since it has become incredibly popular all over the world. You can add tomatoes, hot peppers, red or white salad onions, olives or olives, bell peppers, orange or grapefruit slices to the composition, in general, you can experiment indefinitely and every time ceviche will be incredibly tasty and healthy. On occasion, be sure to try to cook this dish and delight your loved ones with an excellent snack.
Ingredients
Fresh salmon fillet 200 gr.
Avocado 1 pc.
Green onion 3 pcs.
Parsley 2 twigs
Arugula 2 twigs
Lime juice 2.5 tablespoon
Sea salt, pepper to taste
Capers 1 tablespoon
Olive oil 1.5 tablespoon
Directions
Prepare foods from the list. Salmon must be fresh, buy only from a trusted seller. Wash and dry the greens.
Chop green onions, arugula and parsley finely with a knife, fold into a comfortable deep bowl.
Peel the avocado, cut into small cubes, add to the herbs in a bowl. Chop capers as small as possible. Remove the small bones from the salmon fillet, if any, cut the fish into equal cubes, about one centimeter in size. Place all ingredients in a bowl with chopped herbs.
Season the ingredients with salt and pepper to taste, season with good quality virgin olive oil and lime juice. There are options where ceviche is seasoned with orange or grapefruit juice, these options are not close to my taste, so I cook according to a more common recipe in our restaurants.
Next, the salad must be thoroughly mixed and allowed to stand for a couple of minutes, soaked in all the tastes of the dressing. As soon as the fish turns white with lime juice, the dish is ready and ready to serve.

Divide the cooked salmon ceviche into portions and serve as a cold snack.
Enjoy your meal!
Also Like
Comments for "Salmon Ceviche Recipe"