Ceviche Recipe
by Editorial Staff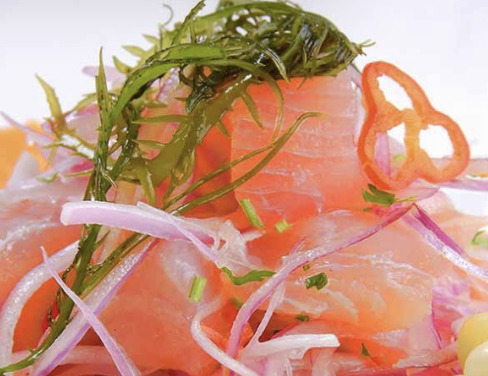 Ceviche is a very old dish, dating back at least 2 thousand years. It was first prepared in Peru. The ceviche recipe is based on fresh fish marinated in citrus juice. Various sources claim that ceviche was consumed along the entire Peruvian coast about 2 thousand years ago. The Incas made this dish with salt, hot pepper, sour orange, and onion. Today, like many popular dishes, ceviche has so many varieties that it's hard to count.
Ingredients
Fillet of salmon fish (salmon, chum salmon, salmon, trout, etc.) – 800 gr.,
Lime – 5 pcs. or lemons – 2 pcs.,
Hot fresh peppers (preferably chili) – 2 pcs.,
Bulb onions (red Crimean) – 2 pcs.,
Seaweed – 100 gr. and cilantro – 3 sprigs.
Directions
Cut the fish fillet (without skin) into medium-sized cubes.
Squeeze all the juice out of the limes.
In a glass or ceramic deep and wide bowl, rub the inside with one chili pepper cut in half.
Place the sliced ​​salmon in a bowl and cover with lime juice. For the next 15 minutes, mix the fish with juice, preferably with a plastic or wooden spoon or spatula (metal cutlery will oxidize under the influence of acid and can spoil the taste of the dish). chopped salmon
After 15 minutes of mixing, transfer the fish to a clean dish.
At the second pepper, remove the stalk and peel the pod from seeds, cut the pulp into thin rings.
Peel the onion and cut into the same thin rings as the pepper.
If we use cilantro, we cut off the leaves (we don't need the stems, as they will "coarse" the fish).
That's the whole recipe for ceviche, this dish is served chilled, when serving, you need to sprinkle the ceviche with chopped onions, chili and garnish with seaweed or cilantro leaves. As a side dish, you can serve boiled white beans, boiled sweet carrots, fresh tomato, and avocado salad.
Enjoy your meal!
Also Like
Comments for "Ceviche Recipe"