Tuna Ceviche Recipe
by Editorial Staff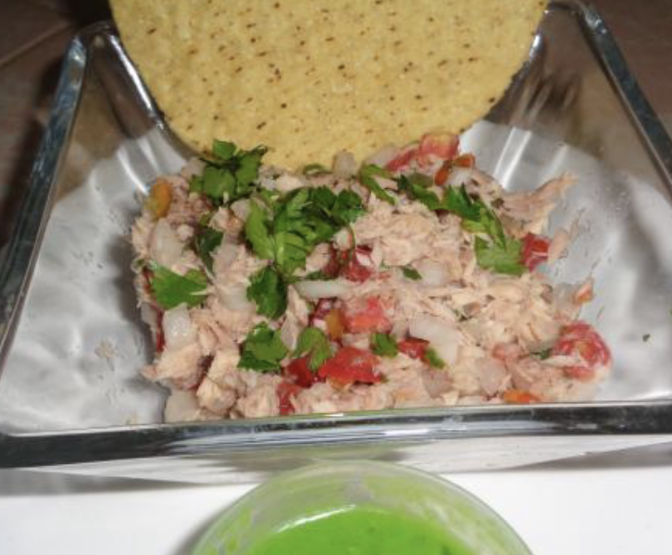 Ceviche is a classic Latin American seafood dish. Fresh raw seafood is prepared by marinating in lime or lemon juice. Ingredients for shrimp ceviche fresh shrimp – 200 g tomato – 1 pc. onion – 1 pc. cilantro – a few sprigs of lime – 2 pcs. olive oil – 2 tablespoons salt, pepper Method of cooking shrimp ceviche Peel the shrimp by removing the shell, head, and tail. Rinse and cut into 3-4 pieces. Fold into a bowl. Squeeze lime juice, pour over shrimp. Cut the tomato into 4 pieces, remove the seeds and liquid, and cut into cubes. Finely chop the onion and cilantro, add to the shrimp bowl. Pour oil there, salt, pepper, and mix. Leave to marinate from 30 minutes to 3 hours. Delicious ceviche with shrimp and lime, you can also make it from fish in the same way.
Ingredients
3 cans of tuna in water
2 jalapenos, chopped
2 cups chopped red tomato
1 white onion, chopped
1 cup chopped cilantro
2 lemons
1 pinch of salt
1 pinch pepper
Directions
To start with your ceviche tuna, prepare the ingredients needed to make this economical recipe. Note! Start by mixing chopped onion, chopped tomato, and chopped peppers in a bowl, integrate them perfectly,
Then add the tuna to the mixture And, again, mix until all the elements of your canned ceviche tuna are included.
Now add a pinch of salt and pepper to taste for the season. Mix again until the flavors are combined.
Finally, add the chopped cilantro with the juice of two lemons. Mix and refrigerate for 15 minutes.
It's done! You already have amazing ceviche tuna ready to eat. You can enjoy it on avocado toast like Mexican ceviche, or also corn, sweet potatoes (sweet potatoes), or green banana chips, as usual with Peruvian ceviche.
Enjoy your meal!
Also Like
Comments for "Tuna Ceviche Recipe"