Mexican Ceviche Recipe
by Editorial Staff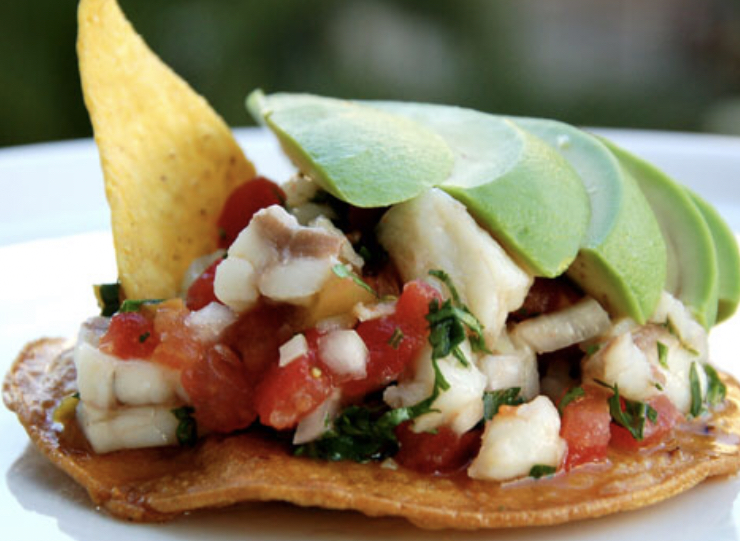 Ceviche is wonderful food in my opinion. As soon as I stopped being afraid of raw fish, I immediately made it – and understood: "Mine!" It turned out that I had been planning to make it for so long in vain – the fish does not feel raw at all, but the taste surprises it, it turns out to be so tender, interesting, and unusual.
Ingredients
400 g fish fillet
2-3 automata (large ripe tomatoes)
1 small red onion
4-5 lime juice
2-3 jalapeno peppers (canned)
Bunch of cilantro
Salt
Avocado
4 corn tortillas and past.
frying oil.
Directions
Cut the fish into small cubes (1 cm), pour over the lime juice. (Lemons can be used, but the taste will be sharper). Close, refrigerate. The time depends on the fish itself – for tender varieties, 30 minutes is enough, and denser varieties will take longer to cook. The fish should turn white and look finished.
While the fish is cooking, peel and seed the tomatoes, cut into small cubes, add finely chopped onions and cilantro, jalapenos (they are very spicy to taste).
Fry corn tortillas in rast. oil, put on paper towels so as not to absorb excess fat.
Remove the prepared fish from the juice, mix with the prepared vegetable mixture, salt to taste, add the required amount of the remaining juice.
Serve over toasted tortillas, garnished with a slice of avocado.
Enjoy your meal!
Also Like
Comments for "Mexican Ceviche Recipe"