Dorado Ceviche Recipe
by Editorial Staff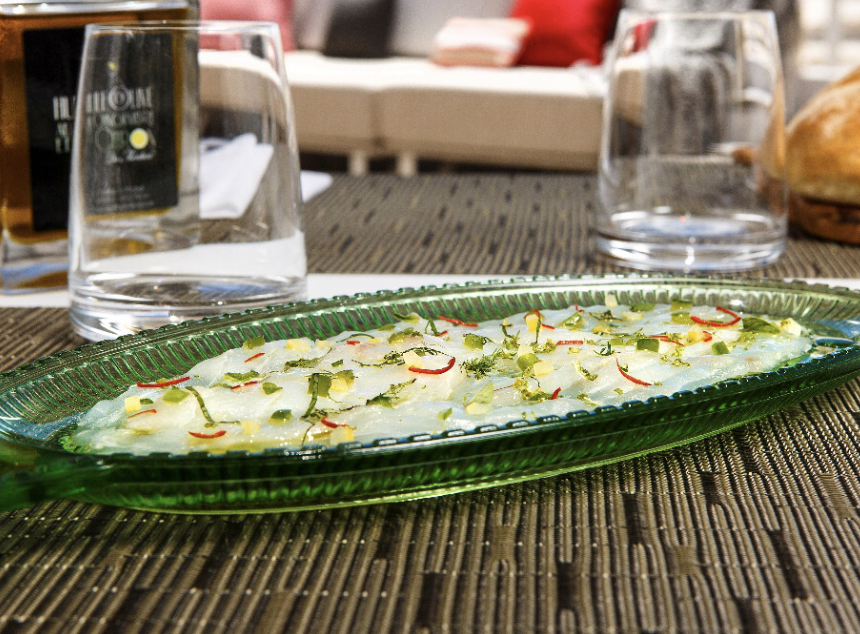 Ceviche (Peruvian, Latin American) is marinated in lime juice or another citrus raw fish or seafood. Protein denaturation occurs under the influence of acid, i.e. the same thing that happens to the product during heat treatment (in the photo, gray shrimps turned pink after being juiced). The difference lies in the preservation of natural taste, healthy composition, and juiciness. Combination with vegetables is an unsurpassed aroma, taste delight, and a long pleasant aftertaste. Those who like spicy can add chili pepper, which will bring the taste of the dish closer to the original Peruvian recipe.
Ingredients
For the classic Peruvian tiger milk marinade:
75 ml lime juice
50 ml coconut milk
25 g pineapple
50 g gilthead fillet
10 g onions
5 g ginger
1/2 clove garlic
½ bunch coriander
½ bunch of mint
salt and pepper to taste
For ceviche:
100 g gilthead fillet, diced
30 g pineapple, diced
10 g red onion
10 g avocado
5 g fresh coconut
5 g Granny Smith apple
2 g hot green chili
4 g coriander
2 g mint
1/2 passionfruit and some coconut flakes (for garnish)
½ lime zest
For pineapple puree (for 4 servings):
100 g pineapple
5 ml coconut milk
½ lime zest
Directions
"Tiger Milk":
Mix all ingredients in a blender until smooth, add salt and pepper to taste. Let it brew, and then strain through a sieve. The resulting liquid is "tiger milk". Put in the refrigerator.
Pineapple puree:
In a blender, mix the pineapple skins with coconut milk and lime zest. Put in the refrigerator.
Ceviche:
Chop the fish, avocado, and pineapple into 1cm cubes.
Finely chop the onion, apple, coconut, and pepper.
Chop mint and coriander. Mix all the ingredients in a mold and add the "tiger milk".
Innings
Spread the ceviche gently over the pineapple puree. Garnish the resulting dish with passionfruit pulp, a few coriander, and mint leaves, and sprinkle with coconut.
Chef's advice:
Once you've peeled the skin of the fish fillet, put it in the freezer for a few minutes to help shape the cubes.
Enjoy your meal!
Also Like
Comments for "Dorado Ceviche Recipe"