Ceviche (the Best Recipe)
by Editorial Staff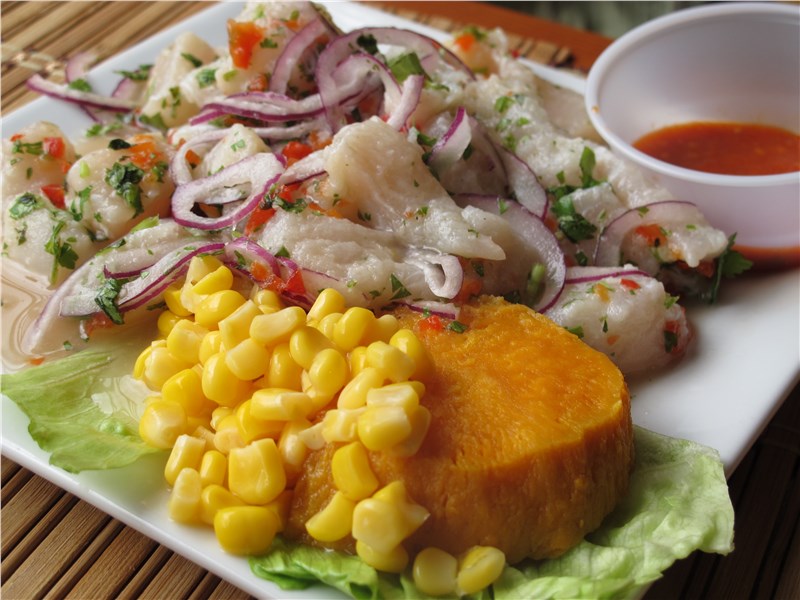 Unusual refreshing dish of fresh fish and vegetables.
Ingredients
fillet of one fresh white fish 800 g
medium lime 5 pcs
large red onion 2 pcs
small bunch
celery stalks 4-5 pcs
garlic 2-3 cloves
green onion feathers 4-5 pcs
chilli pepper 0.5 pcs
salt, pepper to taste
Directions
Cut the fish into small cubes, about 1×1 cm.
Squeeze lime juice by hand (you can use a fork). Do not use a juicer, as bitterness from the partitions and lime peel will appear in the juice.
With lime, the rule applies: a portion of fish per person (approximately 150-200 g) – 1 large lime.
Peel hot peppers and chop finely. You can add more or less pepper depending on your taste.
1/3 of the onion finely chop, the rest of the onion cut into thin half rings.
Finely chop the parsley, chives, celery stalks, chop the garlic. Postpone.
Put the chopped fish in a deep bowl, season with salt and pepper to taste. Add lime juice (it should completely cover the fish).
Add the onion to the fish, mix everything thoroughly.
Put hot pepper (about 1 tablespoon), mix.
Add parsley (about 1 heaped tablespoon), stir.
Add finely chopped garlic and stir.
Add green onions (about 1.5 tablespoons), stir.
Add chopped celery (about 3 tablespoons) and stir.
The amount of this or that ingredient can be varied depending on taste preferences.
Cover the plate with cling film, leave to marinate for 5 minutes at room temperature.
If there is a lot of juice in the plate, you can drain it.
Sevichi should be served with toasted crispy bread.
Enjoy your meal!
Also Like
Comments for "Ceviche (the Best Recipe)"