Mexican Lasagna Recipe
by Editorial Staff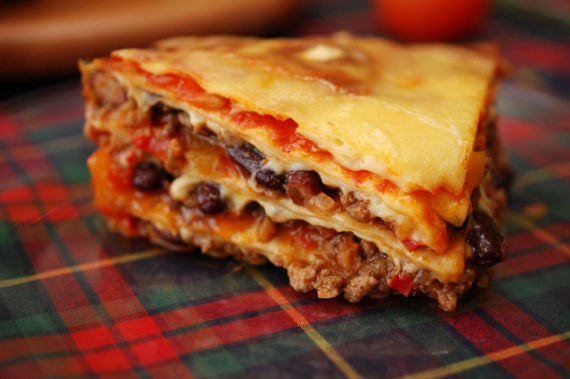 Mexican lasagna is a colorful dish that combines two cuisines. It can also be called lazy because instead of the dough, we will use tortillas. It turns out very tasty, bright, and appetizing. This lasagna can be served both for an ordinary and a festive table. Your guests will be pleasantly surprised.
Servings: 6
Ingredients
Tortilla 5-6 pieces
Salsa sauce 500 grams
Minced meat 500 grams
Bulb onions 1 piece
Garlic 3-4 cloves
Canned red beans 400 gram
Cheese 400 gram
Canned corn not necessary (I didn't add)
Seasonings (salt, black pepper, chili) taste
Vegetable oil 4 tablespoons
Instructions
Heat vegetable oil in a skillet, and then fry the onion in it until transparent. Add minced meat and all the spices of your choice to the onions, as well as crushed garlic cloves. Continue cooking, stirring frequently, until the meat changes color.
Add canned beans to the fried minced meat, after draining the water from it. Stir the contents of the pan and let it boil for another 4-5 minutes. If you are going to add corn as well, add it along with the beans. Now add 4 tablespoons of salsa to the minced meat, stir, cook for another 4-5 minutes and that's it, the meat filling for your lasagna is ready.
Brush the lasagna dish with vegetable oil or butter. Pour some salsa into the bottom. Now it remains to lay everything in the form in layers. Tortilla first. Brush it with sauce, then add some minced meat and cheese (sliced or grated) on top of it. Cover everything with the next tortilla and repeat all layers from the beginning. Place the sauce and remaining cheese on the last tortilla. That's it, the Mexican lasagna is harvested, it's time to put it in the oven.
You need to bake Mexican lasagne at a temperature of 200 degrees for 25-30 minutes. After baking, the lasagna should be allowed time to cool, so it will better keep its shape and will look more appetizing on a plate.
Slice the Mexican lasagna into portions, transfer to plates and serve as a hot main course. It is very tasty, but how good it looks in the context!
Bon Appetit!
Also Like
Comments for "Mexican Lasagna Recipe"