Chocolate Lasagna Recipe
by Editorial Staff
In this dish, we will take as a basis only the way the layers are layered on top of each other, and everything else will be complete improvisation. You get something in between ice cream and cheesecake. See how to make chocolate lasagna with Oreo cookies, chocolate, and cream cheese. So many adorable ingredients in one dish!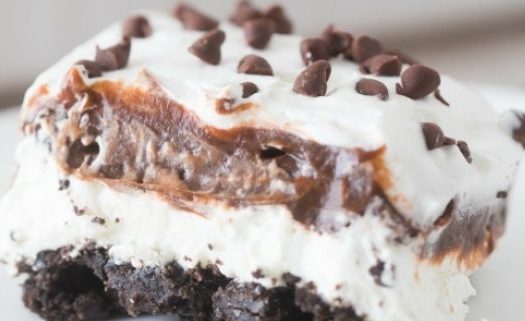 Servings: 8
Ingredients
Cream cheese – 240 Grams
Butter – 90 Grams
Oreo cookies – 16 Pieces
White sugar – 50 Grams
Milk – 830 Milliliters
Powdered mixture for chocolate pudding – 110 Grams
Vanilla extract – 1 Teaspoon
Whipped cream – 360 Milliliters
Chocolate drops or balls – To taste
Instructions
Turn the cookies into crumbs.
Then melt the butter and mix it with the prepared crumb.
In a rectangular baking dish, tamp the biscuit and butter base.
Prepare the cream. Whisk cheese with sugar, 30 ml. milk, and vanilla.
Then add the whipped cream in portions, stirring gently.
Lubricate the base with half of the cream and refrigerate for 15 minutes.
Whip the chocolate pudding with milk until completely dissolved. Grease the dessert with the resulting mass. Leave it in the refrigerator again for 15 minutes.
Then add the remaining cream and sprinkle with chocolate.
Leave the chocolate lasagna in the refrigerator for at least 4 hours.
Then enjoy!
Also Like
Comments for "Chocolate Lasagna Recipe"