Eggplant Lasagna Recipe
by Editorial Staff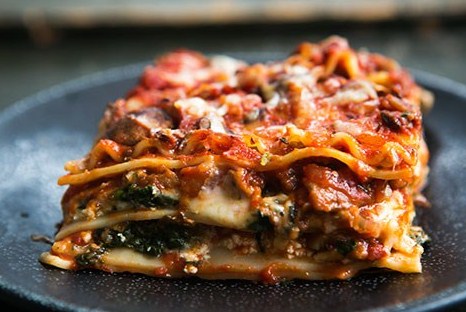 Today I propose to cook a classic Italian dish – eggplant lasagna. Eggplant Lasagne is a simple and unpretentious alternative to traditional minced meat lasagna and béchamel sauce.
The spicy and juicy eggplant sauce in this version of the dish serves as a substitute for both meat and béchamel sauce. It turns out to be not only tasty and nutritious but also juicy enough so that the dough does not turn out to be dry. This means less work in the kitchen and more fun! Vegetable lasagna with eggplant and tomatoes contains fewer ingredients, cooks faster, and is lighter. In general, a very pleasant dish in all respects! Try it!
Ingredients
Zucchini 3 pieces
Eggplant 2 pieces
Mozzarella cheese 500 g
Ready dry lasagna sheets 12 g
Tomato sauce 80 g
Olive oil 100 ml
Breadcrumbs 2 tablespoons
Grated Parmesan cheese 2 tablespoons
Salt to taste
Basil 1 bunch
Ground black pepper to taste
Instructions
Preheat oven to 210 degrees. Cut the mozzarella into chunks and drain. Cut the courgettes and eggplants into slices. Lightly salt, pepper and grill or fry in a regular skillet.
Grease a baking dish, place 2 lasagna sheets side by side, brush with sauce. The next layer is eggplant and zucchini and a layer of mozzarella. Continue alternating layers, sprinkling basil leaves on the dough and sprinkling with olive oil.
On top of the last layer of tomato sauce, apply a mixture of parmesan and breadcrumbs. Bake for 30 minutes. Serve hot.
Also Like
Comments for "Eggplant Lasagna Recipe"