Fast Lasagna Recipe
by Editorial Staff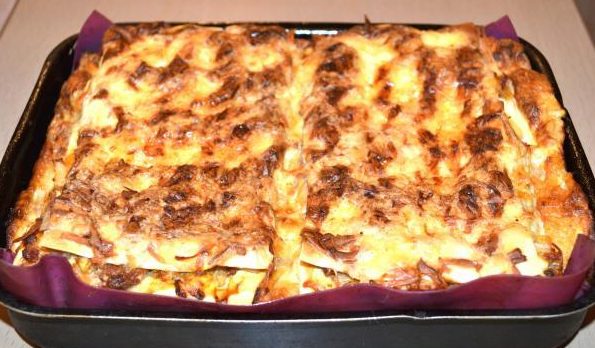 I love lasagna, but it usually takes about an hour and a half to cook because of the sauce and the filling. These reasons led to the fact that lasagna began to rarely appear on our table. Fast Lasagne – Lasagna for those who are in a hurry to cook tasty and beautiful.
Ingredients
mixed minced meat – 300 g;
lasagna sheets – 10 pcs;
onions – 300 g;
chicken eggs – 4;
tomato paste – 1 tablespoon;
Adyghe salt – 1 teaspoon;
ground black pepper – 1 teaspoon;
processed cheese – 75 g;
milk – 150 g;
vegetable oil – 1 tablespoon;
ground red pepper – to taste;
wheat flour – 3 tablespoon
Instructions
First I prepared the filling for the lasagna.
I mixed two eggs, minced meat, added a spoonful of tomato paste, salt, pepper, cut the onion not too finely. Mix.
Put two eggs in a bowl for beating, add milk, vegetable oil, salt, flour, mix until smooth.
Place a high-sided baking sheet with a silicone mat. Pour the sauce, layout the lasagna sheets (Italian sheets that do not require cooking).
Place the filling not too thick, then the lasagna sheets. More filling and sauce. So until, until the filling and sheets are over.
Grate the cheese on a coarse grater. Sprinkle the top layer of the lasagna with the cheese. Add a little mayonnaise to soften the top layer of the dish.
Baked for fifty minutes at 210 degrees.
Bon Appetit!
Also Like
Comments for "Fast Lasagna Recipe"