Cheese Lasagna Recipe
by Editorial Staff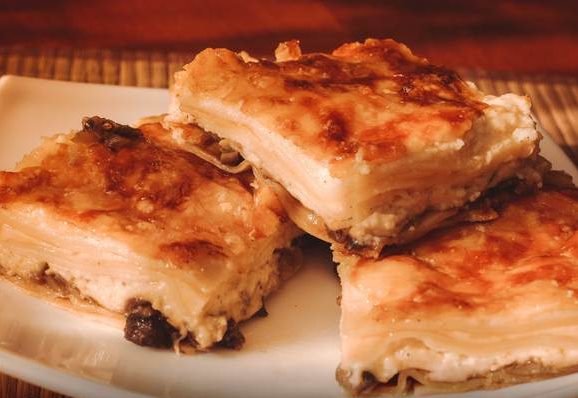 Delicious lasagna! Hearty and tasty!
Ingredients
Gouda cheese 300 g
Russian cheese 250 g
parmesan 50 g
butter 150 tbsp
wheat flour 80 g
lasagna sheets 15 pcs.
onion 1 pc.
salt 8
ground nutmeg 2 ½ g
milk 400 ml
vegetable oil 50 g
champignons 400
pepper to taste
garlic 2 cloves
Instructions
Cooking the blanks: finely chop the onion + garlic. We rub different varieties of cheese in different containers.
Preheat a frying pan with olive oil / or vegetable. Put mushrooms on a preheated frying pan. You can chop and SV + onion + garlic (chopped). We fry everything, pepper, salt.
Cooking Bechamel sauce: Take a saucepan or a frying pan, heat the butter, add flour, and stir so that there are no lumps. Fry and pour out the milk, stirring occasionally. Add ground nutmeg, salt. And stir all the time so that no lumps form. Cook until thick (sour cream consistency).
Next, we cook the sheets for lasagna, cook the sheets in parts for 3 minutes (I boiled in parts for one layer, I got 5 sheets per layer). It took 3 minutes, we carefully take out the sheets in a colander. Next to the plate.
We begin to lay in the mold: Grease the mold with butter, lay the sheets on top of each other with an overlap of 0.5 cm. Layout the fried mushrooms, spread our Bechamel sauce on top of the mushrooms (in a thin layer), sprinkle with Gouda cheese. Layout the sheets as on the first layer. Put Gouda cheese + Parmesan cheese on top of the sheets. Next, again spread the sheets over the cheese, the remaining Bechamel sauce, spread evenly over the entire surface. Sprinkle generously with Russian cheese on top.
We put in a preheated oven to 180 degrees for 30-40 minutes. After we got our lasagna, let it stand for 20-30 minutes so that the cheese does not spread. Enjoy your meal!
Also Like
Comments for "Cheese Lasagna Recipe"