Easy Lasagna Recipe Cottage Cheese
by Editorial Staff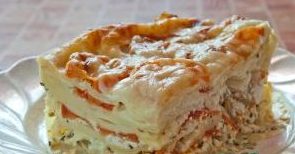 As for the lasagna, the most magical thing about it is that you can come up with any filling. And I thought again and decided that it was not bad with cottage cheese either. We just finished eating the last bite. The taste is extraordinary! A very delicate dish that simply melts in your mouth, with a garlic speck and an invigorating aroma of Parmesan.
Ingredients
Lasagne (leaf) – 15 pieces
Cottage cheese – 3 packs
Green olives (green pitted) – 1 ban.
Garlic (1 large head for 5-6 cloves will do) – 1 pc
Tomato – 3-4 pieces
Chicken egg (raw) – 3 pcs
Salt (to taste)
Black pepper (ground to taste)
Oregano (ground to taste)
Parmesan – 150 g
Instructions
Mash cottage cheese with a fork, add salt, pepper, herbs. Cut the olives in half, divide them into 2 parts. Add one to the cottage cheese, save the second. Squeeze a part of the garlic through the garlic press into the cottage cheese, finely chop the second part, set aside.
Drive 3 eggs into the curd, stir to make a thin porridge.
Cut the tomatoes into slices. Grate the cheese.
Boil the layers of lasagna (read cooking method) or (if the dry method) just hold it in hot water for 2 minutes (so they are softer and tastier). Keep one plate at a time, as they can stick together.
First, pour the curd sauce into a mold with sides on the bottom, then lay out the layers of lasagna, pour over the sauce again, put the tomatoes on top, sprinkle with chopped garlic and olives (which we had put aside before). Then, a layer of grated cheese. We spread again the layers of lasagna, again the curd mass, tomatoes, olives, garlic, cheese.
We spread it in layers until the curd mass ends. Ideally 5-6 coats.
The top layer is also with sauce, more cheese. You can add sour cream to the top layer.
Into the oven for 35 minutes at 180 degrees.
Also Like
Comments for "Easy Lasagna Recipe Cottage Cheese"