Quick Easy Lasagna Recipe
by Editorial Staff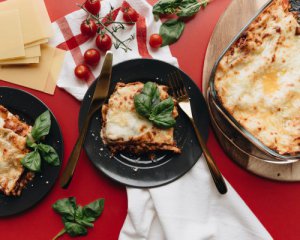 Lasagna is a traditional Italian dish / Sheets, which use steel dishes, can be purchased at any store, which simplifies the cooking process. The filling can be different: from minced meat, tomatoes, spinach, various vegetables, cheese, fish, and more.
Ingredients
lasagna sheets – 200-250 g
minced meat – 1 kg
tomatoes – 500 g
onions – 200 g
carrots – 150 g
garlic – 3-4 cloves
milk – 1 liter
butter – 100 g
flour – 100 g
hard cheese – 300 g
parmesan – 50 g
salt, pepper – to taste
vegetable oil
Instructions
For the bolognese sauce, finely chop the onion and garlic. Grate the carrots on a medium grater. Remove the skin from the tomatoes, chop the pulp in a blender or grate. Fry onions and garlic in vegetable oil. Add carrots, spices, and minced meat – fry. Simmer until tender, about 20-25 minutes. Add tomatoes and cook for 5 minutes.
For the béchamel sauce, melt the butter. Add flour and stir. Fry lightly. Pour milk in a thin stream, mix. Boil. Heat until the sauce becomes similar in consistency to liquid sour cream. Add a pinch of salt.
Grate the cheese on a medium grater. Parmesan – finely.
Place the lasagna sheets in a baking dish. Top with half the meat sauce and 1/3 bechamel. Sprinkle with half of the grated cheese. Cover with lasagna sheets. Add the rest of the meat sauce. Lubricate the bechamel. Sprinkle with cheese. Place the sheets again and brush with the béchamel sauce. Bake at 180 ° C for 40-45 minutes.
Take out the finished lasagna, sprinkle with Parmesan. Place in the oven for another 5-10 minutes. Serve hot.
Also Like
Comments for "Quick Easy Lasagna Recipe"