Easy Homemade Lasagna Recipe
by Editorial Staff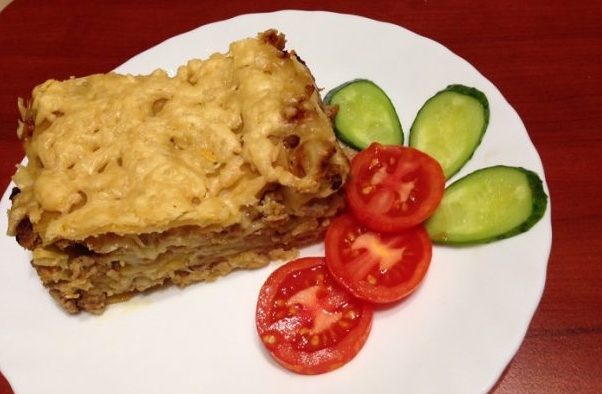 Many are afraid to cook lasagna at home, preferring to feast on this dish in Italian cafes or restaurants. But you can cook this dish deliciously at home, this simple recipe will help you with this.
Ingredients
Minced meat – 500-600 grams
Onions – 1-2 Pieces
Tomatoes – 3 Pieces (or tomato sauce 2 tablespoons)
Vegetable oil – 2 tbsp
Butter – 40 grams
Wheat flour – 1.5 tbsp
Milk – 2 Glasses
Nutmeg – 0.5 Teaspoons (ground)
Black pepper – 0.5 Teaspoons (ground)
Salt – 1 Teaspoon
Italian Herbs – 0.5 Teaspoons (Dried)
Hard cheese – 150 Grams
Sheets – 5 Pieces (for lasagna)
Directions:
First of all, we will deal with the filling. Peel and finely chop the onions. Preheat a frying pan with vegetable oil, spread the minced meat. Fry over medium heat, stirring occasionally, and chopping lumps of minced meat with a fork until the minced meat brightens. Add the bow.
Cut the tomatoes into small cubes. You can remove the skin from them by dipping the tomatoes in boiling water for a minute.
When the minced meat begins to brown, add chopped tomatoes or tomato sauce, salt, and pepper to taste, and add aromatic dried Italian herbs. If you don't have a herbal mixture, add dried basil. Cooking minced meat for 3-4 minutes. And don't dry it out.
Cooking Bechamel. Melt the butter and add the flour. Stir very thoroughly so that there are no lumps. Fry the butter-flour mixture for 2-3 minutes, stirring all the time. And in a thin stream, without ceasing to interfere with the sauce, pour in the milk. Cooking the sauce for another 2-3 minutes, until thickened. Then add pepper, salt, and nutmeg. Mix and remove from the stove.
Rub the cheese on a coarse grater. Cover the form with parchment. Layout the lasagna sheet.
Spread the meat filling in an even layer, distribute 2-3 tablespoons of Bechamel sauce over it. Sprinkle with cheese. And in the same order (lasagna leaf – filling – bechamel – cheese) we spread all the remaining ingredients. Cover the last layer with a lasagna sheet, grease it with béchamel and sprinkle with cheese.
We bake lasagne in an oven preheated to 200 degrees for 40 minutes. The cheese should be browning. It is very convenient to take the lasagna out of the mold by the ends of the parchment, and then cut it on aboard.

The lasagna turns out to be very tasty and juicy. And most importantly – it is prepared with your own hands and with love!
Also Like
Comments for "Easy Homemade Lasagna Recipe"