Gluten Free Lasagna Recipe Easy
by Editorial Staff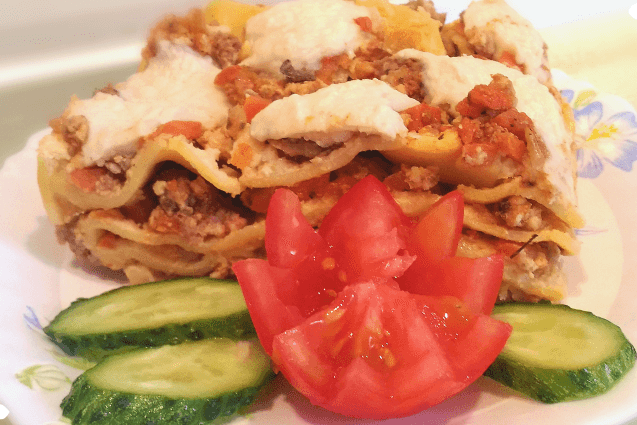 This gluten-free lasagne is not only good for your health but also tastes great. Surprise your family with this homemade and delicious lasagna that you will definitely love.
Ingredients
12 plates of gluten-free lasagne
1200 g chopped tomatoes or peeled tomatoes
700 grams of minced meat
1 onion
200 grams of red wine
1 branch of celery
1 sprig of rosemary
2 medium carrots
Fresh parsley
Fresh oregano
Olive oil
500 grams of whole milk
30 g butter with salt
30 grams of cornstarch
Salt and black pepper to taste
Directions:
To prepare the Bolognese sauce, all vegetables should be very finely chopped. Add a splash of oil, salt, and onion to a saucepan over medium heat. When soft, add celery and carrots. Then add the meat and when fully cooked add the wine. Cook over low heat for five minutes and add chopped tomato, a pinch of salt, oregano, rosemary, and a pinch of sugar for acidity. Stir well and let simmer for one hour or until well cooked and well mixed.
For the homemade bechamel, melt the butter in a saucepan over low heat, add the sifted cornstarch and stir well to avoid lumps. Add a little milk, stirring at any time. Add salt and pepper and continue stirring until thick. Remove from heat and reserve.
Spread the butter all over the pan where the lasagna will cook. Additionally, add some breadcrumbs in the background.
Alternate the lasagna sheets with 1 cm layers of bolognese sauce and pieces of cheese. Repeat these steps until you reach the top of the shape.
Finally, after the last layer of lasagna, cover with béchamel sauce and serve in the oven, preheated to 180 degrees. Cook for about 50 minutes.
Also Like
Comments for "Gluten Free Lasagna Recipe Easy"