Easy Lasagna Recipe with Ricotta Cheese
by Editorial Staff
Let's make an American lasagna at home. For lasagna, you need to prepare several important ingredients: tomato sauce, ricotta, and egg curd mass, and a lot of grated cheese. All ingredients are stacked in layers in a baking dish. The finished lasagne turns out to be very rich, juicy, and tasty! Have a nice day!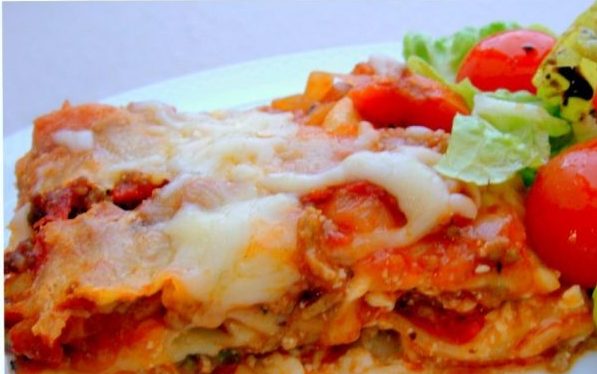 Ingredients
Minced meat – 400 Gram
Tomato – 800 Gram (in its own juice)
Garlic cloves – 2 Pieces
White onion – 2 Pieces
Carrots – 2 Pieces
Celery – 2 Pieces
Red wine – 100 Grams
Sugar – 1 Teaspoon
Ricotta – 400 Grams
Egg – 1 Piece
Salt – 1 Teaspoon
Mozzarella cheese – 100 Gram
Parmesan cheese – 100 Gram
Lasagne – 6 Pieces (sheets)
Parsley – To taste
Instructions
Chop onions, carrots, and celery stalks. Press the garlic and put it in a preheated pan with vegetable oil. Fry all vegetables for 3-4 minutes. Add dry Italian herbs and minced meat, mix.
Pour in the wine, put tomatoes in their own juice, and knead them with a fork. Cook over low heat, stirring for 10-15 minutes, then remove from heat and let the sauce brew for several hours. If time is running out for you, then use the sauce immediately. Salt and pepper to taste.
Mix the ricotta with the egg and chopped parsley. Pour tomato sauce with minced meat in the first layer into the mold, put lasagna sheets on top. We put ricotta on it.
Put a layer of tomato sauce on the ricotta and sprinkle with grated cheese. Put lasagna sheets and minced tomato sauce with the last layer.
We put the form in the oven, bake for 25 minutes, temperature 175 degrees. Then sprinkle the dish with grated cheese and bake for another 15 minutes.
Bon Appetit!
Also Like
Comments for "Easy Lasagna Recipe with Ricotta Cheese"