Simple Lasagna Recipe With Ricotta Cheese
by Editorial Staff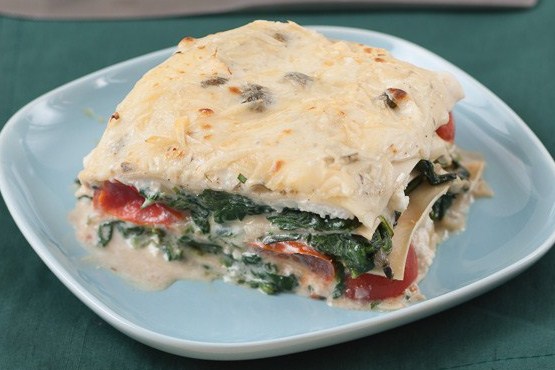 This lasagna is prepared with delicious ricotta. It turns out very tasty and healthy because ricotta contains a lot of calcium. In addition, there is a lot of hard cheese and vegetables.
Ingredients
Ready dry lasagne sheets 68 g
Parmesan cheese 40 g
Ricotta cheese 125 g
Fresh spinach leaves 200 g
Cherry tomatoes 300 g
Garlic 1 piece
Shallots 2 g
Capers 16 g
Thyme 3 g
Milk 200 ml
Butter 10 g
Wheat flour 12 g
Olive oil 15 ml
Mozzarella cheese for pizza 25 g
Instructions
Cut the cherry in half, place on a baking sheet, cut up, sprinkle with thyme leaves and bake at 180 degrees for 15 minutes.
Boil lasagna leaves in boiling water for 3 minutes, cool the leaves in a bowl of cold water, remove and pat dry with a towel.
Chop the shallots and garlic into small cubes and fry in olive oil for 2 minutes until the onions are transparent, set aside.
Fry the spinach in olive oil over high heat for 2 minutes, drain the liquid, mix with the fried onions and garlic.
In a saucepan, melt the butter and saute the flour over medium heat for 20 seconds; add milk, bring to a boil, stirring constantly; remove from heat, add grated mozzarella and half grated parmesan, salt, and pepper, add finely chopped capers, stir until smooth.
Spread 2 tablespoons of sauce over the bottom of the mold, put a leaf of lasagna on top, put 1/3 of the tomatoes, spinach, and ricotta on top, cover with 2 tablespoons of sauce, and so on in layers until the last sheet.
Spread the remaining sauce over the top of the lasagna, sprinkle with Parmesan and bake for 20 minutes; let cool for 10 minutes, and serve.
Also Like
Comments for "Simple Lasagna Recipe With Ricotta Cheese"