Lasagna Recipe with Ricotta
by Editorial Staff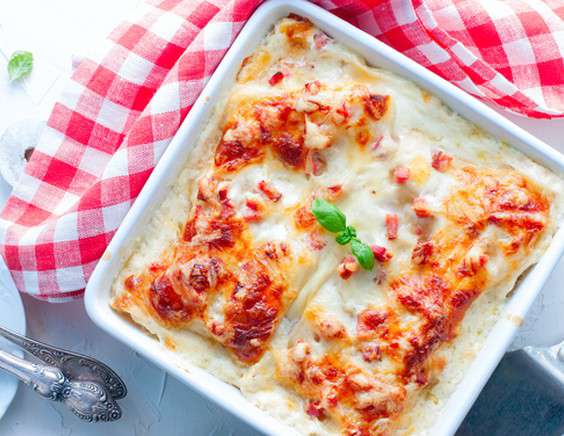 The main feature of the recipe for lasagna with ricotta and minced meat in the oven is the absence of béchamel sauce. Nevertheless, this recipe is one of the varieties of Italian cuisine lasagna, because ricotta is the traditional cheese of the historical homeland of this dish. And having our simple step-by-step recipe with a photo at hand, you can easily cope with the cooking steps. Juicy and tender lasagna will fill the house with aroma and gather the whole family at one table. Garnish with fresh basil when serving.
Ingredients
Lasagne leaf 220 grams
Ground beef 400 grams
Tomato paste 3 tablespoon
Bulb onions 1 piece
Garlic 2 cloves
Mozzarella 300 grams
Salt to taste
Ground black pepper to taste
Ricotta cheese 500 grams
Basil to taste
Oregano to taste
Egg 2 pieces
Instructions
Peel the onion and garlic and chop finely. Then fry in olive oil until soft, add minced meat and fry for 10 minutes.
Add tomato paste, 100 ml water, oregano, salt, and pepper to taste, simmer for 10 minutes.
Grate mozzarella on a coarse grater. Put the ricotta in a separate container, add eggs, basil, salt, and pepper to taste and stir.
Place lasagna sheets on the bottom of the baking dish spread the minced meat on top, add a little mozzarella, then cover with lasagna sheets and layout the ricotta. Repeat layers several times.
Sprinkle the top layer of lasagna with grated cheese. Bake the juicy lasagna at 180 degrees for 40 minutes.
Also Like
Comments for "Lasagna Recipe with Ricotta"