Classic Lasagna Recipe
by Editorial Staff
This classic Italian dish can also be prepared at home. Lasagne, by the way, can be served not only as an everyday dish but also on holidays. The dish is universal.
Lasagna with minced meat is a fairly common dish today in many countries. This recipe will help you learn how to make lasagna juicy, tasty, and quick to make. To simplify the task, you can use ready-made lasagna dough plates. This will save time and provide 100% results.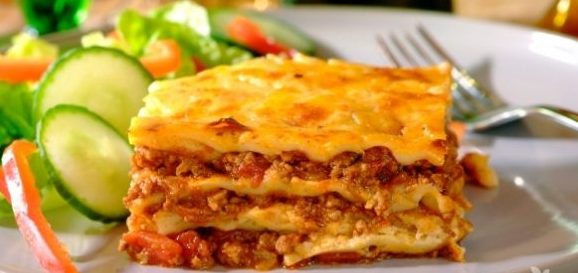 Servings: 6
Ingredients
Onions – 1 Piece
Minced beef or pork – 500 grams (you can take a mixture)
Ground black pepper – 1/4 teaspoons
Dried parsley – 2 teaspoons
Wheat flour – 40 grams
Butter – 50 grams
Parmesan – 50 grams
Olive oil – 40 Milliliters
Salt – 0.5 teaspoons
Tomato puree – 500 Grams
Dried basil – 1 teaspoon
Milk – 400 Milliliters
Lasagna – 10 Pieces (sheets)
Nutmeg – 0.5 teaspoons
Instructions
First of all, cut the onion into a medium cube and fry in a preheated pan until golden brown.
Add the finished minced meat to the onion, fry, stirring well. Season with salt and pepper to taste.
When the minced meat is ready, you can add tomato puree to the mixture. Simmer the mixture for 10 minutes, until all moisture has evaporated, add herbs.
We are preparing Bechamel. For him, we drown butter in a frying pan with a thick bottom. Over low heat, add flour to the melted butter, mix thoroughly, then gradually pour in the milk and continue to stir. Keep on fire for 5 minutes until thickened, adding salt, pepper, and nutmeg.
Prepare a baking dish, after greasing it with oil, put the lasagna sheets on the bottom. Top with Béchamel sauce then spread the minced meat and cover with a sheet. We repeat the actions, on the last layer we pour everything with sauce.
Sprinkle the lasagna with grated Parmesan and put in an oven preheated to 190 degrees for 30 minutes, covering the top with a layer of foil.
Also Like
Comments for "Classic Lasagna Recipe"