Shawarma (Classic Recipe)
by Editorial Staff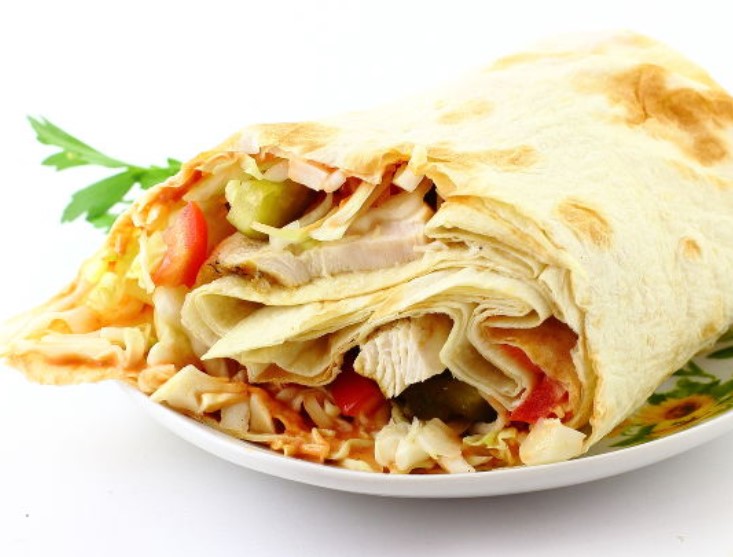 If you love a hearty and tasty snack, then this recipe for shawarma with chicken and vegetables is sure to please. Shawarma (shawarma) is prepared at home quite quickly.
Cook: 40 mins
Ingredients
Thin lavash (fresh, soft) – 1 pc.
Chicken fillet – 180 g
White cabbage – 100 g
Canned cucumber (salted or pickled) (small) – 1 pc.
Tomato (small) – 1 pc.
Ketchup – 2 tbsp
Mayonnaise – 2 tbsp
Salt to taste
Ground black pepper – to taste
Vegetable oil – 1 tbsp
Directions
To prepare shawarma, take thin pita bread, chicken fillet, canned cucumber, fresh tomato, white cabbage, ketchup, mayonnaise, salt, ground pepper, vegetable oil.

Cut the cabbage into thin strips. Season with salt and stir.
Cut the cucumber (pickled) into thin cubes. Cut the tomato into quarters.
Use mayonnaise and ketchup as a sauce (you can use tomato paste) – stir and season with ground pepper.
Rinse the chicken fillet, pat dry with a napkin and season with pepper and salt. Fry the fillets in vegetable oil in a skillet or grill pan until tender. Cool slightly and cut into slices.
Brush the center of the pita bread with the prepared sauce. Spread cabbage, cucumbers and tomatoes.
Top with chopped fried chicken.

Tightly wrap the stuffed pita bread with a roll so that the sides are closed. Homemade shawarma with chicken and vegetables is ready. Optionally, a pita roll (shawarma) can be fried in a preheated dry frying pan until browning.
Enjoy your meal!
Also Like
Comments for "Shawarma (Classic Recipe)"