Shawarma in Pita
by Editorial Staff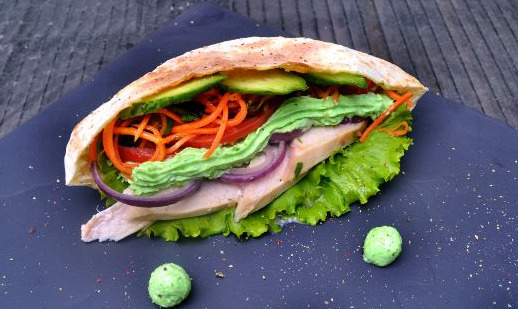 Recipes in pita ceased to be exotic and are gaining more and more popularity. We offer another option – shawarma (shawarma) in a pita, with chicken, vegetables, cheese sauce.
Servings: 2
Ingredients
For pita:
Flour – 1 glass
Sugar – 2 teaspoon
Yeast – 1 teaspoon
Water
Salt
For the sauce:
Yogurt – 1 jar
Kumin
Coriander
Salt
Garlic
Pepper
For filling:
Chicken fillet – 1 breast
Feta – 100 g
Sesame seed – 3 teaspoon
Sesame oil – 1 teaspoon
Carrots – 50 g
Eggplant – 50 g
Vinegar
Sugar
Salt
Pepper
Greens
Tomato – 20 g
Cucumber – 20 g
Lettuce leaf – 5 g
How to cook shawarma in a pita:
Directions
For pita, knead the usual yeast dough. You can use milk, you can add eggs, but it's not important. Roll the dough into a ball, cover with a towel, and leave for an hour. Next, roll out the dough into a flat cake, about 8 mm thick. We bake at the maximum temperature (I have 275 degrees). In a minute, the cake will begin to swell, thus we get a "pocket" for the filling. Cover the finished pita with a towel and let cool.
Now the filling. Pour the chicken breast with a mixture of soy sauce, honey, garlic, a mixture of five peppers. We bake for 15 minutes at 180 degrees in convection mode.
Rub the carrots on a Korean grater. Cut the eggplants into strips and deep-fry. Transfer to a paper towel, let cool completely, and mix with carrots. If not allowed to cool and mix hot, they will turn into "porridge". Add salt, sugar, garlic through a press, vinegar, chopped parsley to the carrots with eggplant.
Mix feta with dill and cilantro. Fry sesame seeds in a dry frying pan and add to the cheese. Pour in 1 teaspoon. sesame oil and a little olive. Beat until smooth.
And prepare the sauce for greasing the pita. To do this, we use regular yogurt, add garlic to it through a press, freshly ground cumin and coriander, salt, and pepper.
Cut the pita in half. Lubricate the inside with sauce, put a leaf of lettuce, pieces of chicken, our green cheese, tomato, carrot and eggplant salad, cucumber.
Bon Appetit!
Also Like
Comments for "Shawarma in Pita"