Shawarma on Coals
by Editorial Staff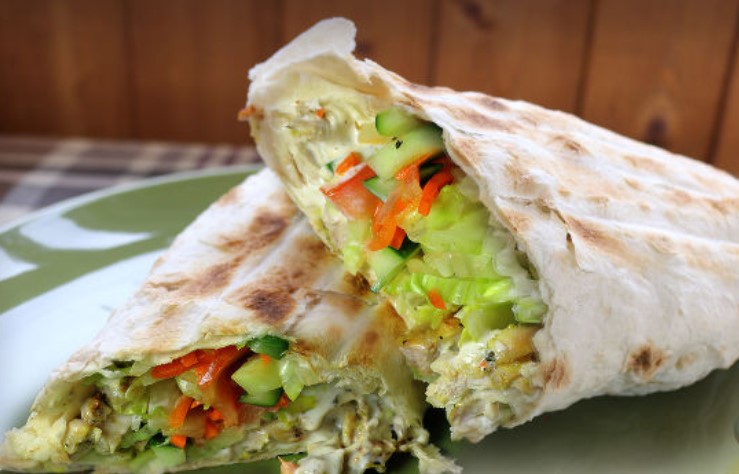 Recipe for cooking shawarma with chicken on charcoal. A very tasty and uncomplicated way of cooking this unpretentious dish, with a wonderful spicy sauce. Perfect for a picnic in the countryside with friends!
Ingredients
Chicken thigh (boneless) – 1 kg
Armenian lavash – 2 pcs.
Cucumber – 2 pcs.
Tomatoes – 2 pcs.
Korean carrots – 150 g
Iceberg salad – 1 pc.
Lemon – 1 pc. (the juice)
Garlic – 3 cloves
Sour cream 15% – 3 tablespoon.
Kefir 3.2% – 3 tablespoon
Mayonnaise – 6 tablespoons
Dry garlic – 1 pinch
Dried basil – 1 pinch
Ground coriander – 1 pinch
Cumin – 1 pinch
Turmeric – 1 pinch
Freshly ground black pepper – to taste
Salt to taste
Directions
We start cooking by marinating chicken thighs with salt, black pepper, dry garlic, dried basil, turmeric and juice of half a lemon. Mix the ingredients well and leave to marinate for half an hour.

Let's move on to making the sauce. In a bowl, mix sour cream, kefir and mayonnaise. Rub 3 cloves of garlic on a fine grater. Add coriander, cumin, salt, freshly ground pepper. Squeeze out the juice of the remaining half of the lemon. Stir the sauce. We leave it to infuse while we prepare the rest of the ingredients for the shawarma.
Cut the cucumbers into strips. We remove the stalks from the tomatoes and cut into semicircles. Cut the iceberg salad into arbitrary, not very large pieces.
Fry the chicken over charcoal. We cut the thighs into small pieces so that it is convenient to wrap them in shawarma.
It's time to collect the shawarma. In my case, the sheets of pita bread turned out to be too large, so I cut them into 2 parts. On each of the parts we apply 2 tablespoons of sauce, chicken meat, cucumber, tomato, Korean carrots, iceberg lettuce, another layer of chicken breast (after all, we all know that there is never too much meat), 2 more tablespoons of sauce ( to make the shawarma really juicy). We fold a sheet of pita bread, holding the filling so that we get a neat roll.
Fry a little chicken shawarma on a wire rack over coals.

We serve chicken shawarma on the table.
Enjoy your meal!
Also Like
Comments for "Shawarma on Coals"