Shawarma with Beef
by Editorial Staff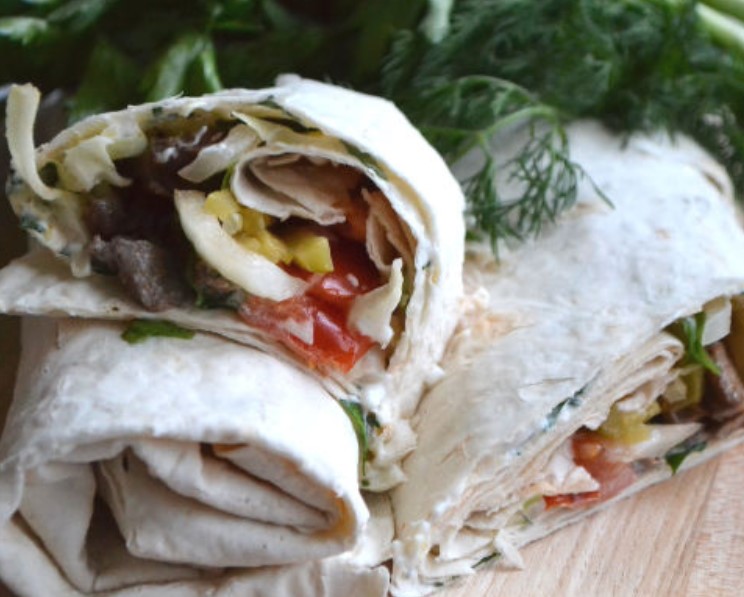 Delicious, fragrant and hearty homemade beef shawarma. In addition to the meat component, add tomatoes, cucumbers, cabbage, herbs and garlic sauce.
Ingredients
Beef – 400-500 g
White cabbage – 300-350 g
Lavash – 3-4 sheets
Tomatoes – 2 pcs.
Pickled cucumbers – 2 pcs.
Dry caraway – 0.5 teaspoon.
Dry basil – 1 teaspoon
Soy sauce – 40 ml
Sesame oil – 3 tbsp
Olive oil – 30 ml
Dill – 3 branches
Parsley – 3 sprigs
Green onions – 1 bunch
Bulb onions – 2 pcs.
Garlic – 2 cloves
Mayonnaise – 4-5 tbsp
Directions
We prepare the ingredients for beef shawarma.

Put the beef in a convenient deep container. Add spices: basil and cumin. Pour in 20 ml of soy sauce and olive oil. We leave the meat to marinate for 3-4 hours, and best of all overnight.
We take out the marinated meat and cut it into strips. Fry the meat in a pan with the addition of sesame oil for about 15 minutes.
Peel the onions and cut into thin half rings, put the onions in a separate container and pour 10 ml of soy sauce, leave to marinate aside.
Finely chop the cabbage, salt. Add 1 sprig of finely chopped dill and parsley. Pour in all 10 ml of soy sauce.
Cut the tomatoes into small pieces, green onions into small rings. Add 1 clove of garlic, minced with a garlic press.
Cut the finished and cooled meat into small pieces.
Cooking the sauce. In a separate container, mix the mayonnaise, finely chopped, the remaining herbs and the chopped garlic clove. We mix.

We form a shawarma. We spread the whole sheet of pita bread with sauce.
Put the cabbage filling in the middle of the sheet.
Put the meat on the cabbage.
Put pickled onions on the meat.
Put pickled cucumbers cut into strips on the onion.
And at the very end we put the tomato filling.

We wrap the lavash. Grill ready-made shawarma if desired. Homemade beef shawarma isready.
Bon appetit!
Also Like
Comments for "Shawarma with Beef"