Shawarma with Chicken
by Editorial Staff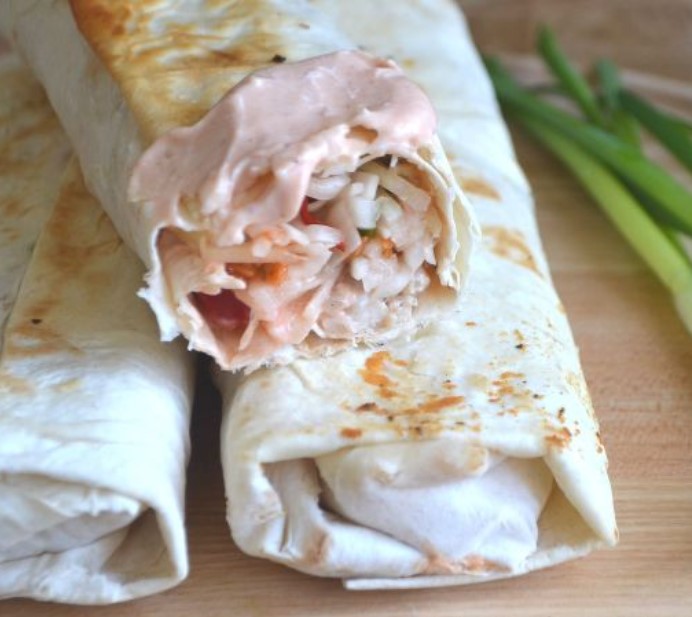 Delicious shawarma can be easily made at home. I offer you a recipe for homemade shawarma with chicken, cabbage, tomatoes and bell peppers.
Ingredients
Thin lavash – 2 pcs.
Chicken fillet – 2 pcs.
White cabbage – 300 g
Tomatoes – 2 pcs.
Bulgarian pepper – 1 pc.
Bulb onions – 1 pc.
Green onions – 3 pcs.
Mayonnaise – 3 tbsp
Sour cream – 2 tbsp
Ketchup – 5 tbsp
Garlic – 2 cloves
Vinegar 5% – to taste
Sugar – 1 pinch
Salt – 1 pinch
Black pepper – 1 pinch
Vegetable oil – for frying
Directions
We prepare the necessary products for shawarma.
Cut the chicken fillet into small pieces (cubes). Salt, pepper and stir
Heat vegetable oil in a frying pan. Fry the chicken fillet until tender, about 15 minutes.

Peel the onions and cut into thin half rings. Chop the green onion finely.
Peel the bell peppers and cut them into thin strips.
Cut the tomatoes into small pieces.
Chop the cabbage finely. Sprinkle with salt, sugar and drizzle with vinegar. Stir the cabbage and crush it with your hands a little.
We combine cabbage, bell peppers, tomatoes, onions and green onions. We mix.
Cooking the sauce. To do this, mix mayonnaise, sour cream, ketchup and chopped garlic. Salt and pepper to taste. We mix.
We form shawarma. We cut the pita bread into two parts.
Put the fried chicken pieces on the edge of the pita bread, pour over the sauce (about 2-3 tablespoons).
Put vegetables on meat and sauce.
We wrap the longitudinal edges of the pita bread on the filling and roll the pita bread with the filling into a roll (envelope). We do the same with the rest of the lavash sheets.

Fry shawarma with chicken in a pan (in oil) on both sides until golden brown.
Serve homemade chicken shawarma hot.
Enjoy your meal!
Also Like
Comments for "Shawarma with Chicken"