Shawarma is a Middle Eastern dish made from meat (chicken, lamb, lamb, less often veal, turkey), fried on a spit, wrapped in pita bread, less often in a pita, with the addition of spices, sauces, and fresh vegetable salad. The meat is fried using special technology in the grills intended for this. The pieces are strung on a skewer rotating around its axis and relative to the heating elements located along the skewer. As the meat is browned, it is cut into thin pieces with a long knife, which falls into the pan. These pieces are then further crushed. Along with meat, sauce (rarely red tomato and most often white garlic) and vegetables (tomatoes, cabbage, and cucumbers) are added to the filling of pita or pita bread.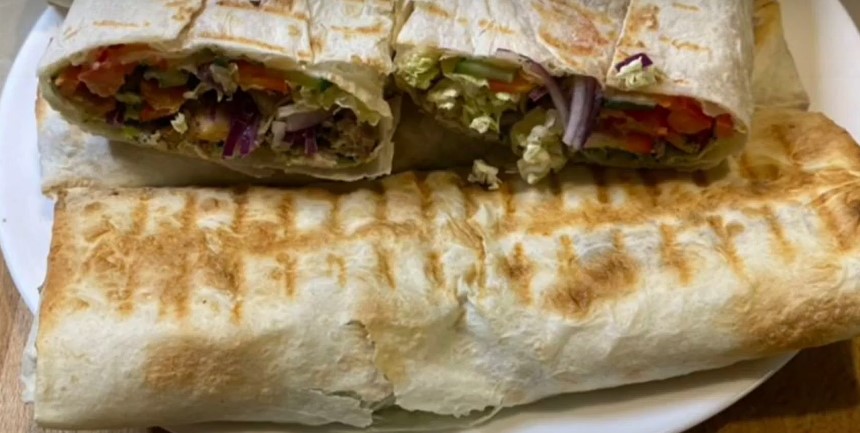 Servings: 4
Ingredients
chicken breast fillet 250 g
chicken thigh fillet 200 g
thin pita bread 2 pcs.
Beijing cabbage 40 g
tomatoes 2 pcs.
fresh cucumber 1 pc.
pickled cucumber 1/2 pc.
sour cream 15% 150 g
hard cheese 20 g
red onion 1 pc.
garlic 4 pcs.
bell pepper 1/2 pc.
dill 45 g
paprika flakes to taste
hops – suneli to taste
black pepper to taste
salt to taste
Directions
Prep time: 1 h 30 minutes
Cook time: 1 hour
Total time: 2 h 30 minutes
We prepare the ingredients. Cut the chicken breast and thighs into thin small plates. We put it in a separate bowl. Salt, pepper, add spices – in my case, these are paprika and hop flakes – suneli.
We string it on a spit and send it to a cold mini-oven or oven for one hour. We set the temperature to 180 degrees, heating the top-bottom, grill mode. Do not forget to make a kind of pallet out of food foil.
In the meantime, prepare the garlic sour cream sauce. We send sour cream, dill, cheese, and garlic to the blender. Salt and pepper to taste. We start the blender, a minute and the sauce is ready.
We cut vegetables arbitrarily. Pieces of pickled cucumber go well with fresh cucumber and add a special piquancy to the dish. We cut the lavash into two parts.
When done, cut off the top layers of chicken fillet from the grill and cut into smaller pieces outside the oven.
Spread the sauce on pita bread. The first layer will be pieces of ready-made chicken fillet, then vegetables at your discretion, and finish with sauce.
Gently wrap the pita bread with the filling and send it to the grill pan. Fry on both sides over medium heat under lightweight. Done! You can enjoy the taste of Shawarma. Bon Appetit!!!
Also Like