Homemade Shawarma Based on the Burger "Sloppy Joe"
by Editorial Staff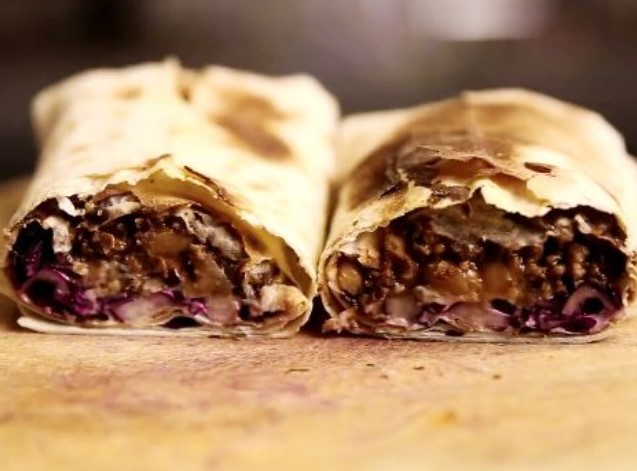 I noticed that Sloppy Joes burgers not only use traditional hamburger buns, but they also wrap the filling in a tortilla. This discovery prompted the idea of ​​making homemade shawarma stuffed based on Sloppy Joes.
Ingredients
Thin lavash – 3 sheets
Minced beef – 500 g
Canned beans, in tomato sauce – 250 ml
Chili pepper, dried flakes – 1/3 teaspoon.
Purple onion – 1 pc.
Garlic – 4 cloves
Mustard – 1 tbsp
Tomato sauce – 200 ml
Brown sugar – 2 tbsp
Wine vinegar – 1 tbsp
Worcestershire sauce – 1 teaspoon
Natural yogurt – about 9 tbsp
Red cabbage, small – 0.25 pcs.
Chopped green onions – 1-2 tbsp
Lemon juice to taste
Ground pepper – to taste
Salt to taste
Directions
Pour vegetable oil into a preheated pan. Pour in the chili flakes, heat.
Chop the onion.
Chop the garlic.
Add the chopped onion to the pan.

Send garlic there. Fry.
Take ready-made ground beef or mince the beef.
Add minced meat to the pan.
Fry until tender.
Add beans.
Add tomato sauce.
Add mustard, brown sugar, wine vinegar, and Worcester sauce. Stir and bring to a boil. Turn off heating.
Thinly chop the blue cabbage and mash it with your hands.
Put cooked minced meat with beans on pita bread.
Spread the cabbage on top.
Add yogurt.
Spice up.

Chop green onions.
Sprinkle with chopped green onions and lemon juice.
Roll the stuffed pita bread into an envelope. Preheat the oven to 275 degrees and bake pita bread with minced meat under the grill for 2-3 minutes.
Homemade shawarma based on Sloppy Joes (Burger "Sloppy Joe") is ready.
Enjoy your meal!
Also Like
Comments for "Homemade Shawarma Based on the Burger "Sloppy Joe""