Shawarma with Kebab
by Editorial Staff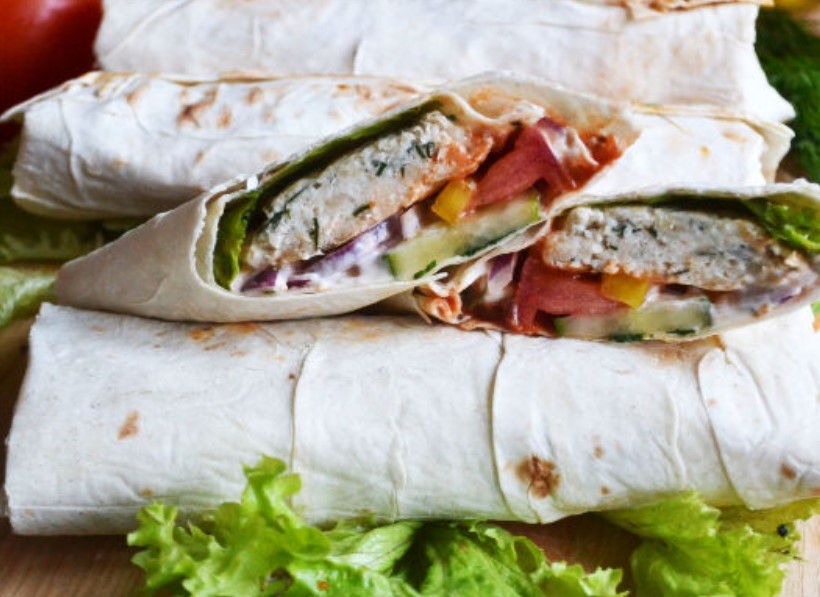 To prepare shawarma with kebab, we need a little patience – and a delicious, aromatic shawarma will be ready. Shawarma with chicken kebab can be taken with you to a picnic, on the road or even to work, for lunch.
Cook: 1 hour
Servings: 6
Ingredients
For kebab:
Chicken fillet – 500 g (2 pcs.)
Eggs – 2 pcs.
Flour – 50 g
Mayonnaise – 50 ml
Bulb onions – 1 pc.
Salt to taste
Ground black pepper – to taste
For filling:
Bulgarian pepper – 1 pc.
Cucumbers – 2 pcs.
Tomatoes – 2 pcs.
Leaf salad – 1 bunch
Red onion – 1 pc.
Parsley – 3 sprigs
Dill – 3 branches
Ketchup – to taste
Mayonnaise – to taste
Lavash – 3 sheets
Vegetable oil – for frying kebabs
Directions
We prepare all the necessary products for kebab shawarma.

Wash chicken fillet, clean it from films and veins. Cut the fillet into small cubes and grind it with a meat grinder.
We peel the onions and grind them with a meat grinder directly into the minced chicken.
Chop the washed dill (1 branch) finely.
Add dill to the container for minced chicken and onions. Salt and pepper to taste.
Add eggs, flour and mayonnaise to the minced meat.
Mix the minced meat until smooth.
Put the minced meat in a preheated frying pan with the addition of vegetable oil.
Fry the kebabs on both sides until golden brown.

Peel the red onion and cut into half rings.
Cut the washed cucumber into thin slices.
Cut the washed tomato into slices and semicircles.
Wash the bell peppers, peel them of seeds and cut into thin strips.
Finely chop the dill and parsley.
We form shawarma with kebab. We cut the pita bread into two parts.
Put the salad, 1 kebab, a little onion and pepper on the edge of the pita bread.
Lubricate with ketchup and mayonnaise to taste.
Sprinkle with some greens.

Twist the pita bread tightly into a roll. We form all the other portions according to the same principle.
Fry the shawarma in a dry, preheated pan on both sides until a barely noticeable crust.
Shawarma with chicken kebab is ready.
Enjoy your meal!
Also Like
Comments for "Shawarma with Kebab"